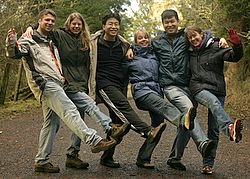 We're fortunate enough to be friends with Clark Wachsmuth whose family owns a cottage in Oysterville. Oysterville is a small town about twenty minutes north of Long Beach Washington. We try to visit Oysterville with Clark at least once a year. It a nice cozy place to tuck away from the world and enjoy the simple pleasures of card games, hiking, movies, beaches, and potato guns.
When I found out my brother Jack would be coming home for Christmas, a group of us made plans to take Jack to Oysterville for New Year's Eve. It would be great to finally have Jack be where we've all reminisced about. I took the day off Friday so we could spend four days at Oysterville.
The saying goes "It never rains in Oysterville," but it definitely has its moments of "heavy sprinkles" I say. It made for a great cozy atmosphere inside for us to play card games, Bible charades, video games, and other miscellaneous projects.
The gang there comprised of Jennilyn, Jack, Clark, Mary, Tracy, and I. The first day we journeyed outside to see how far the bay had seeped into the peninsula. We were all armed with Canon cameras, ranging from the A80, Digital Rebels, to the 20D. It was great taking snapshots around then sharing them with each other afterwards. It's amazing what catches people's eyes.
My favorite moments were playing card games with everyone. Jack and Clark played a lot of speed and cribbage. We played some hearts and Rook together. Bible charades was a great exercise to help us communicate with each other non-verbally. Some of the cards had eight word answers referring to Proverbs and other more obscure Bible references. Still, we had a good time and was a close game between the two teams.
I'm very glad that Jack had a great time out there. Thanks to Clark for allowing us to party up there again and again. Check out the pictures from the weekend, there were some spectacular shots at the beach and Marsh's Museum. I have a PDF version which I've used Adobe InDesign to create a photobook to narrate the pictures we took.
And one last thing… this was Jenni's project for the weekend [6.07 MB Windows Media Video file]. What is this? Well, I'll just have to let her tell you sometime.