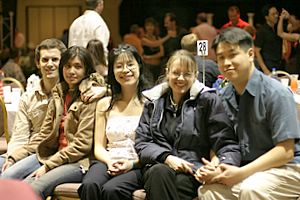 Jenni and I spent President's Day weekend in Sacramento attending the Capital Swing convention. I took my first shot at intermediate Jack & Jill since winning first in the novice division at BridgeTown Swing 2005. I graduated from being in novice for almost three years, and like moving up to middle school, the excitement of new opportunities and higher expectations rattled my stomach. I used to be at the top, and now, I'm back to the bottom. The best thing about being at the bottom is that there's only one way to go—upwards.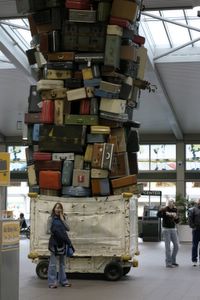 It's just daunting sometimes when you're looking up at how far there is to grow. Anyway, we left Portland late because of a mechanical problem with our plane. Our friend Thuy joined us on the Southwest flight cram-packed with people. It was so packed that our carry-ons were "upgraded" to be baggage. When we arrived in Sacramento, we had to pick up our carry-ons at the baggage claim. We admired the luggage pillars, too.
We took a shuttle through Sacramento rush hour to the Radisson Hotel. The layout of the hotel is different than most hotels I've been to. It's really flat. Most hotels go up many levels, but the Radisson takes the opposite approach by being sprawled out. Our room was located at almost the opposite end of the convention rooms. So, we had a long walk back and forth the whole weekend, which was great exercise.
Jenni and I entered intermediate strictly swing in good cheer in spite of the fact that we hadn't danced much in three weeks and had no time for to warm up. And we were dancing in California. My hands were cold with anticipation and anxiety. We gave it our best and had some great dances. There were twenty two couples for intermediate strictly swing, so they had us go straight into semifinals. After running through advanced strictly semifinals and novice strictly finals, we got called back to dance in finals.
We shared three great dances again, even better this time around since we were warmed up. Jenni gave me great encouragement when we did something right, and a wonderful smile everytime I mouthed "sorry" when I messed up. I gave a lot of thought into how I started each song. I wanted to show variety so I mentally prepared a different send-out for each starter. I had heard a pro comment on that once, and I figured I'd put that information to use.
The competition schedule for Capital Swing is a bit intense, which I'll get to in a moment. But the other thing they do is have the awards ceremony every night for the competitions done that day. It has its benefits and pitfalls. I enjoy not having to wait all the way to the end to see how well people did, but at the same time, it's great to have a build-up at the end to cheer for. They ran a little behind schedule on Friday night so Jennilyn and I were quietly eating dinner when Thuy called Jenni from the main ballroom.
"They're doing awards! You guys got fifth place!"
I smiled. I knew it would happen if we were in the hotel room during awards. I admit, I had hopes of placing well at intermediate strictly with Jenni, but when I saw the first heat dance in our division, I started doubting. There were a number of leads I watched that easily trumped me. And that's good. I have something to shoot for. Placing fifth in California among twenty two other couples is a great honor.
There are some people I enjoy getting to know more because they're such a "kick in the pants." I've known Thuy since high school when she and my brother Jack teamed up at a math competition and flat-out blew my 2nd place team away. I got to know Thuy a little more during college because we both started ballroom dancing around the same time. The first ballroom dance I went to at OSU, I learned tango at the lesson and spent nearly the whole dance practicing the tango basic with Thuy… until one of her friends were kind enough to show us the basic for waltz.
Jenni and I were both glad that Thuy was able to join us. I could almost think that Thuy and Jenni were sisters by the way they joked and snicker together. They raced each other back to the room, shared a warm blanket in the freezing ballroom, exchanged hair pins and the like. It was fun to see them building a friendship.
My most memorable moment with Thuy for the weekend was Sunday morning in the hospitality suite. I had grabbed my sandwich and moved on to the fruit while some guy was trying to squirt mayonnaise onto his sandwich. The mayo didn't cooperate so the guy quietly put it back on the table. Thuy noticed him giving up and she took the bottle. She said softly something in the manner of "just needing to shake it up a little" before proceeding to give several powerful swings to the mayonnaise bottle. Powerful and almost violent. The other guy and I just stood there and watched as she swung the mayo bottle like she was splitting wood with an axe. We both heard the mayonnaise go slush to the bottle cap. Then without a brush away of her hair, she handed the bottle to him. The guy thankfully commented, "Now that's my kind of woman!"
Back to competitions. As I said earlier about the competition schedule being intense, I say so because it's all back-to-back. And almost no social dancing in between. Most people I figure, wouldn't be competing in multiple contests, so most people got to sit for a very long time in an air-conditioned room. Each division was exceptionally large as well, so they helped the judges out by giving each heat five songs almost every time. Needless to say, it was a very cold time watching competitions.
For intermediate Jack & Jills, Darren and Jimmy made finals. Jennilyn and I did not. While disappointed, I wasn't terribly surprised since it was my first time as intermediate. I also noticed that none of my partners made it to finals either. A bit of a bummer, but we cheered on from the sidelines for Darren and Jimmy, who neither placed at the end. Surprising, this time, very few people from Portland brought back any awards. I believe Jenni and I were the only ones.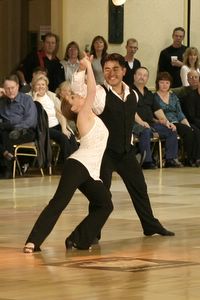 There were many routines at Capital Swing. In showcase, Robert and Deborah took first, followed closely by Robert and Nicola Royston. Parker and Jessica took third because they had several mistakes. Classic was an amazing show. Jenni and I enjoyed routines from Arjay and Melissa, Shawn Tobias and his partner, Michael Kilbasa and his partner (Kilbasa.. hooo…. his name makes me think of Mufasa from The Lion King, and how the jackals said his name), Ronnie and Brandi, and of course, Jordan and Tatiana. They are unhuman. While most couples do one routine for the entire year, usually debuting at the US Open on Thanksgiving weekend, Jordan and Tatiana came up with another one and showed that they can beat all the competition—even themselves.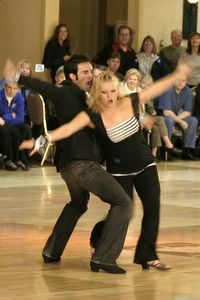 I took pictures of their routine so I would need to see it on video again and again to really appreciate the finer points. While I don't remember much of it, it was lightning fast, snappy, and a rollercoaster ride. From the moment it started, the rocking-out strumming of a guitar from the Pulp Fiction theme, the crowd was set up to cheer all the way through. They did one move where their arms looked like they were swing all over each other, as pictured to the right. Amazing. Just amazing.
The champion strictly swing, all-star Jack & Jill, and invitational Jack & Jills were nothing less than spectacular. Things that stick out in my mind were Wayne and Sharlot attempting to do a big flashy lift and barely executing it. The landing was a little rough. Later when Sharlot drew Jordan in J&J, Jordan poked fun at Wayne by almost completing the same move. It's always a blast to see the pros enjoying themselves and also having fun at each other's expense. Jennilyn recalls Kyle and Tatiana messing around at the all-skate during the strictly where Tatiana snaked around Kyles leg while maintaining a hand connection and Kyle proceeded to start going under his leg too. John Lindo and Jessica Cox gave a hilarious performance in natural Lindo style. Lots of wiggling and grooving.
In the all-star J&J, Myles Munroe and Stephanie Batista did a superb job to a blues song. It must've impressed the judges too with their second place award. Edwin and Sheena had a fun dance which earned them fifth place. Christopher Hussey and Giovanna Dottore ranked third above Bill Cameron and Tessa Cunningham's fourth. Shawn Tobias and Samantha Buckwalter rounded up the top five at first place with a rock-solid dance.
The top two couples for the invitational J&J gave the biggest shows. Brandi Tobias drew her classic partner Ronnie DeBennedetta. He had a dazed look on his face for a few seconds as the crowd cheered and his peers jeered before he curses loudly. He stomps up, spins Brandi into position for their classic routine pose, jokingly, before proceeding. They had an entertaining dance as they had great music accents and beautiful lines. They took second above Jordan and Tatiana's third placement, who also drew each other. John Lindo and Melissa Rutz got the crowd laughing and cheering but only placed fourth over Mark the Marine and Jessica Cox's fifth.
When I saw the results for SwingDiego 2006, I started wondering about the lead who took first. I never thought much of his style but I'm beginning to see what makes him a winner. He has great showmanship and a presence that gets the whole ballroom of probably eight hundred people passionate about west coast swing. Robert Royston and Melina Ramirez took home the gold for invitational J&J with two dances that just brought everyone to their feet laughing and joyful.
I didn't get as much social dancing in as I would've liked. It was a little bit of culture shock dancing in California due to the level of dancers out on the floor and also going onto a floor where I'm a relative nobody. I believe the experience will help me be more considerate on the Portland dance floors in going out to newcomers more. For both nights, if I had the opportunity to walk off the dance floor, I wouldn't get a dance unless I went out and hunted for a partner right after the next song ended. It was worse Friday night because I sat at my table which was tucked away from the floor. The next night, when I sat at the edge of the floor to watch the upper-level dancers, I got pulled out more often.
I had some great dances with Jenni and Thuy. I got in a few dances with advance people, but mostly with more beginners. Late, late-night Saturday (or it could be considered Sunday), I got a dance with Jordan's strictly swing partner. She was fun. I noticed that the leads led a lot of spins of their follows, so it'll be something I'll have to learn more so I can do it effectively too.
I'm glad to have gone to Capital Swing. I had heard many great things about it. Almost every pro came, even to their disadvantage monetarily since there were very few workshops. Some, like Katie Boyle, I believe just came for the invitational J&J. The caliber of the dancers were very high and incredibly inspiring. I would've liked more social dances during the day between the competitions to warm up, but Capital Swing is geared more for the competitor with lots of competitions and a dedicated judging pool.
It's too bad Portland didn't do as well this time around, but we'll just keep on going and growing. We'll be back. Oh, and one more thing, I finally got latin shoes—just so I can be cool like the rest of you westies.
See more photos from the weekend.