David and Christine Vernier open up their vacation condo in Sunriver, Oregon for all the employees at Vernier. I hadn't taken the opportunity the first year I worked at Vernier, but after hearing over and over again how wonderful it is, I signed up. All the employees get one opportunity per year, so I didn't want to miss out my second year in a row.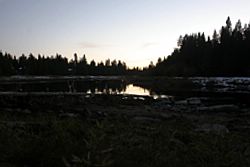 I worked extra hours the two weeks prior so Jennilyn and I could leave early Thursday. We arrived at Sunriver in the early evening, just early enough to see the sunset.
When I first arrived, I just had to explore every nook and cranny because I wanted to see all there was to offer. Dave and Chris' place is very homey and luxurious. The living room has a beautiful view of the Deschutes River.
I woke up early Friday morning (I tend to get up early during vacations because I want to maximize my fun), and tried to take a few photographs outside. Unfortunately it was so cold, my hands shook too much for me to get a steady shot. Jenni and I spent the morning browsing the little shops of Sunriver Village.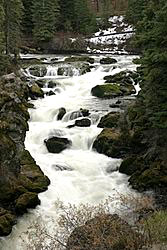 Jenni looked through Dave and Chris' chest of information on all there is to do in Sunriver. She spotted a waterfall, Benham Falls, for us to drive then hike to. It was relatively close and she loves waterfalls. The map had said a dirt path, but we took the difficult path rather than the family-friendly path. I think when the map said 'difficult,' it didn't have snow as part of the equation. We were a little worried for a while since we were not driving a SUV with a high clearance between the bottom of our car and the snow. The drive to the falls entrance was definitely a little nerve-racking, but we made it safely.
Benham Falls is quite beautiful. There are many levels to let the water cascade down. We were able to take a few pictures before we received a call from our friends Clark and Mary. They were in Bend and would arrive in Sunriver shortly. So we made a quick trek back to the car and slugged through the snow.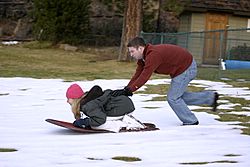 Clark didn't waste anytime enjoying the snow on the ground. He slid around the condo grounds on his snow boogie-board. We spent some time sliding around and enjoying the snow.
We gave them a complete tour of the condo, had dinner together, and caught up on their life as an engaged couple.
On Saturday, Clark and Mary prepared a great breakfast. We went to Mount Bachelor for a few hours of inner tubing. I had never done it before and it's somewhat terrifying. The speed one goes down the hill in an inflated donut isn't the scary part-it's scary because the tube tends to spin down the hill. So I don't think most people feel comfortable flying down a hill at thirty miles per hour if they can't see where they're flying toward.
I went down on my stomach, and that was fun the first time. However, on my second run on my stomach, I made the mistake of riding with my waist over the hole. When I hit a speed bump, my lower back took a little dip and snapped back up. It ached afterwards so I spent the remainder of the ticket time taking pictures of Clark, Jenni, and Mary going down the hill. I hadn't taken action pictures in a while, so I had to relearn how to do that. Also, the sun was going down behind the mountain, but the snow made for a very bright reflective surface. Still, I was happy with some of the pictures that came out.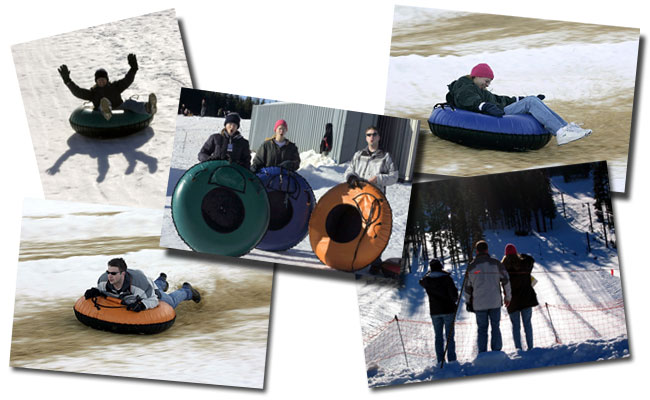 We had a quiet breakfast together on Sunday before one last photo project and made the trip home.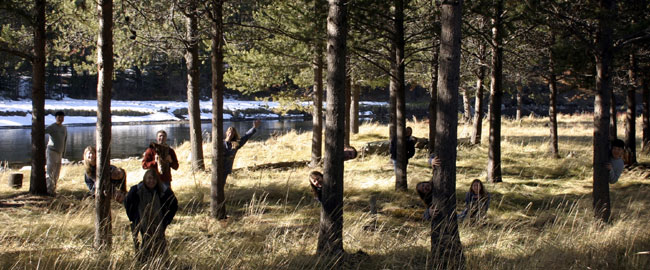 Next time, we hope to take a long boat ride down the Deschutes River and enjoy the scenic wildlife. A bike ride around the Sunriver condos would be fun. We look forward to spending future vacations there with friends and family.
Make sure to check out all the pictures of our weekend.