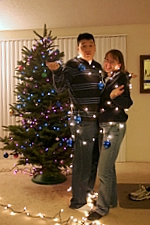 Jennilyn's family celebrates Christmas all-out. They have a real Christmas tree decked out and glowing, wrapped presents to be opened on Christmas day, stockings full of treats, lots of sweets, and so on. My family? Well, we started out decorating with some Christmas lights around the living room haphazardly, and for many years, a plastic Christmas tree that was on its last limb. Literally. It was basically a holey wooden stick with spray-painted metal wires with fake pine branches attached to it. We got good use of it over the years before we finally got rid if it (at least I think we got rid of it). In recent years, my dad has used a tripod for a Christmas tree. Laugh all you want, but I give my dad props for effort—in an engineer sort of way. Gotta hand it to the man though, he's resourceful for what he's got.
So now that Jennilyn and I are a family unit, we get to discover new traditions. I smile as I think of the mishmash we'll put together. Some will be great, some we'll look back on with a shrug wonder. Either way, it'll be our potpourri. So for Christmas this year, we went out to get a Christmas tree, especially since I've never had a real Christmas tree. We thought about a fake one for economical and possibly environmental issues, but I could see the sparkle in Jennilyn's eyes at the mention of a real Christmas tree. With a Christmas tree shop just a block away from our apartment complex, it didn't take much to get us out there in the rain hunting for our tree.
We browsed around for a bit and found a Noble Fir that had just the right character for our apartment. A little crooked, heavy on one side, and a couple scragglers sticking up near the top—like my hair likes to do in the morning. I almost overpayed for it if I hadn't double-checked the price with Jennilyn.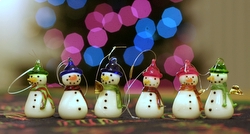 We enjoyed spending some time together decorating it with colored ornaments, lights, and miniature snowmen. One idea we like from the wife of Jennilyn's old pastor was collecting Christmas ornaments from vacations. We think that's a great idea for the end of the year when we get to reminisce about all the great mishaps fun on vacations. We hope to start collecting ornaments of our exploits in the next year.
Seeing our tree put up got me thinking about this Christmas. I looked forward to Christmas last year because it would the first where I got to see 'American' customs first-hand. Plus, it would be the only Christmas I would have a fiancee to give a gift to. For this Christmas, I look forward to hanging out with my brother Jack when he comes back for Pittsburgh. We're already planning to 'geek out' on some video gaming.
It'll also be great to be around friends and family. With everyone going along with their lives, I think I finally understand the magic of Christmas this year—being with loved ones.