Jennilyn's family is fun and creative in their Christmas gifts. They go the full ten yards in wrapping the gift with unusual boxes, noise makers, and special shapes to prevent the recipient from guessing what is inside.
My first Christmas with Jennilyn, I got the gag wrap where there are bags inside of bags inside of bags. And then there was duct tape to get through. Last year, Jennilyn put metal nails and batteries inside my gift so when I shook it, I would hear metal clashing and thuds.
Rubbing off on Jenni's creativity, this Christmas, one lucky relative will be getting 'Da Bomb.'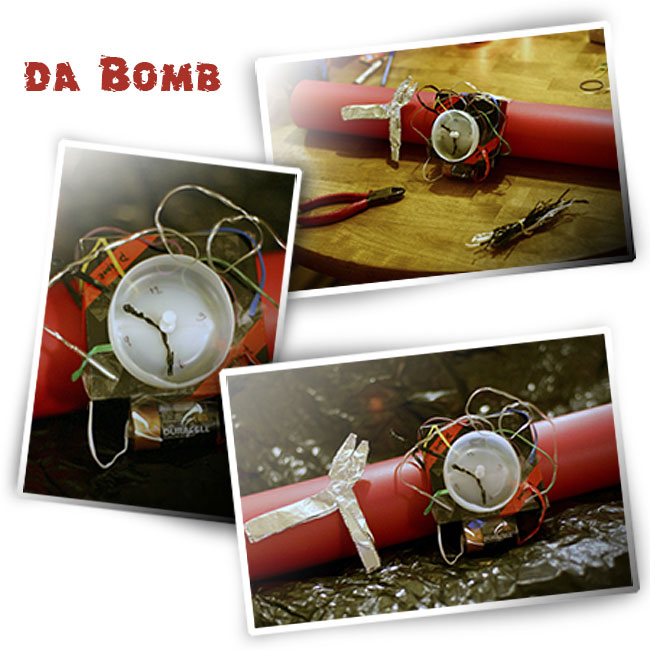 How did we come up with the design of a timer bomb? We had a tube that was used to mail a large 20×30 poster image to us for the main body. We fitted the gift snug inside the tube so it wouldn't shift inside. Jennilyn provided two sheets of her red 12″x12″ scrapbook paper for me to cover the tube. It wasn't quite enough, but the brown tube that was exposed served as a strap that held the bomb timer in the center.
For the timer, we used a small black box for where the electronic timer would be. The wires consisted of colorful twisty-ties taped onto the box. We made the wires go here and there and around and under to give the black box some wiring. The clock hands was a black twisty-tie. The clock body was cut from the bottom of a plastic bottle. A C cell battery was taped to the bottom of the box, just for a gag. And the wire cutters was a quick origami job with aluminum foil. Voilà.
I'm a terrible gift wrapper, but when you have inspiration and an accomplice like Jennilyn, something explosive is bound to come about. Or something photogenic… like her other creation this year: