My boss and I couldn't believe it. Five years has passed since I first walked into the Vernier building. I arrived early because I wanted to make a good impression, only to meet my boss' boss since my boss hadn't arrived yet.
I've been incredibly blessed to have been part of a company as wonderful as Vernier. God strategically placed me there for He knew my needs—and my future family needs—when I was hired.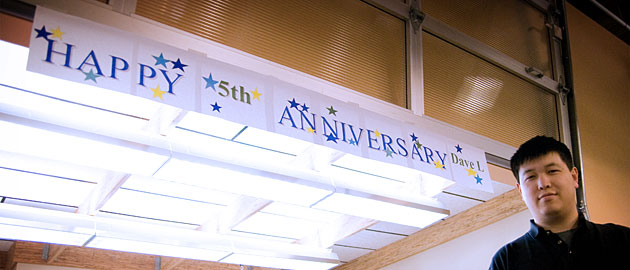 I'm forever spoiled by my experience at Vernier. I can't imagine working anywhere else where I admire my superiors for their ethics and generosity, and know that I'm trusted and valued for my contributions.
There was one specific moment I knew that I was working somewhere special. After working at Vernier for less than a year, I had the opportunity to go to China with my family. I didn't have enough vacation accumulated, but when my boss, Jake heard of it, he advised me to go. Although I ultimately did not go, Jake's reason for his advice has stuck with me through these five years.
"Life is more important than work," he smiled. I'll never forget that moment.
Top 5 Memories at Vernier
Assembling my work computer, and having my boss chuckle when I referred to it as my lightsaber.
Applauding Dave and Christine Vernier at the Vernier 25th Anniversary Party. I can't appreciate them enough for their leadership, example, generosity, hospitality, and humility.
Watching CEO Dave Vernier ride a razor scooter around the office—and parking it outside the men's bathroom.
Becoming a hand model unintentionally. I took a picture of what I thought would be the best composition of a product shot—only to see it used in the catalog sent to over 50,000 across the US… and who knows how many internationally.
Winning an airplane ticket from the summer fitness challenge, which Jenni and I used to bring her friend Rachel from Montana to be our doula.
Top 5 Projects at Vernier
Purchasing Guide (version 1 and 2)
Summer Fitness Challenge Tracker Web App
Vernier 25th Anniversary Video
Vernier Labs Database
Top 6 Perks of Working at Vernier
Riding one of the original 50 Segways
First LEED-EB Certified Building in Oregon
In-House Computer Museum (actually, it's all the old computers Dave Vernier doesn't want to throw away but Christine Vernier never wants to see in their garage)
Employee Appreciation Week (breakfast cooked by the company partners, free massages, free lunch, etc)
Working among talented and hard-working people without worrying about climbing the corporate ladder
Working under the best boss I could ever hope for
My Workspace Décor