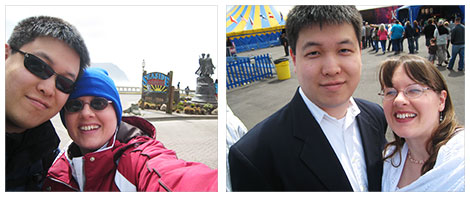 We started our fifth anniversary celebration at Seaside for an overnight stay to enjoy the beach, one of Jennilyn's favorite places. We visit Cannon Beach quite often and Seaside is generally a stop we make on our way back from Oysterville to pick up a snack. When we decided to spend our anniversary at a beach, we realized Seaside would offer us something different yet familiar. I love that the beach is far enough away to be a "get-away" but that we don't spend a majority of our time in the car driving to our destination.
Seaside was a laid-back vacation with walks on the beach, taking photos of each other, exploring the local shops, trying on various hats, and splurging on a delicious dinner at a steak and seafood restaurant. Kadie stayed with Jenni's parents and we took Violet with us. We stayed at the Holiday Inn Express, which had a nice indoor pool for us to take Violet swimming. For our next visit to Seaside, I think we'll try the Shilo Inn since it's right next to the beach and an indoor pool with windows to the ocean.
We topped off the weekend with Cirque du Soleil's Kooza performance in Portland. It was quite the experience and we enjoyed the live music so much that we purchased the performance's soundtrack. Some of the acrobatics were entertaining, but I was left unimpressed with several acts. The comic relief from the clowns gave me a few chuckles as well as groans.
The weekend reminded us how much fun we have exploring new territory with each other, sharing our photography hobby, and talk about life beyond diapers and feedings. Hopefully as our girls get older, we'll be able to get away without the kids—with that said, I look forward to taking Kadie to the carousel in the mall at Seaside and show her all the fun toy shops as well.