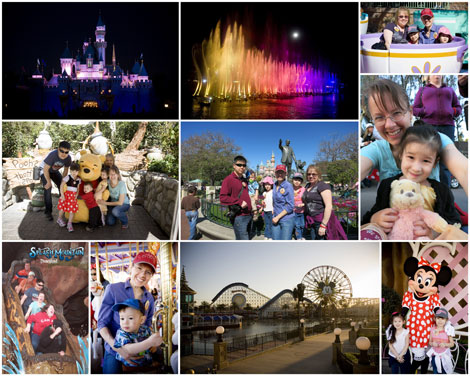 A rite of passage for every child and every parent, we embarked on our first journey to the happiest place on Earth with our kids and Tracy. I have not returned to Disneyland in over twenty-five years, so I wasn't sure what to expect. In retrospect, the experience was best captured on a plaque near the entrance:
"Here you leave today and enter the world of yesterday, tomorrow and fantasy"
Tracy and the Scooter
We invited Tracy to join us to help us match the number of adults and children. She's practically family and we enjoy sharing adventures with her. She also brought along an unintentional perk in the form of a scooter, which allowed us to bypass many lines for rides by using the wheelchair-access entrances. It was a huge time-saver for popular rides and airport security waiting lines.
She helped us plan out our visits in Disneyland and California Adventures while we took care of the kids. She researched rides and attractions appropriate for our young kids and developed a game plan to maximize our time there. We were so thankful that she came and blessed us with her love and time.
Magical Memories
I'm sure it annoyed the other passengers, but hearing Kadie yelling "We're right here!" on the flight map aboard the plane didn't get old to me. Well… maybe after thirty minutes in for a two-hour flight. But I didn't have the heart to stop her.
The kids really enjoyed the Dumbo ride. Even Bruce. He sat next to me and cheered as we spun around and around.
The Little Mermaid ride was a fantastic experience and a marvel at engineering. It was a great mix of animatronics and video. I'm still trying to figure how they segway the musical numbers so seamlessly between areas without the songs spilling between.
The World of Color water and light show was phenomenal. I've embedded a YouTube video of it at the end of this post. It was that good.
Bruce loved Piglet and Pooh. He waddled straight for Piglet and gave him a big hug. Piglet kept hugging him and kissing his head. We had to tear Bruce away from Piglet crying only to enjoy him diving into the arms of Winnie the Pooh.
The endless gasps of wonder from the girls as they experienced Disneyland for the first time—each of the four days we went.
I don't get tired of the wonderful music Disney has created from their feature films.
I surprised myself when I instinctively yelled as Jenni and I barreled down Splash Mountain. Then it was topped by having Jenni thank me for inviting her to go with me, "I hate you."
Logistics and Lessons
Since we brought three children, dietary restrictions, and physical health limitations, we had interesting logistics to improvise at Disneyland (for my own reference when—not if—we go again):
Spend money instead of time. I skipped out on a van this time because it was $500+ for 7 days. I would also have to pay for parking at Disneyland. But considering that the shuttle cost almost $100 from the airport to the hotel (and breaking the law by riding without car seats) and $150 to rent a van for 1 day with 3 car seats, the convenience would probably work out. Though, I'm glad the group humored me this time without a van, I should think of time spent rather than money.
Online grocery delivery. On a similar note, buying groceries without a vehicle was a challenge. After arriving in Disneyland, Jenni and I took a stroller with Bruce and a large suitcase to a Vons supermarket, over a mile away, to load up on groceries for a few days. Again, if we had a vehicle, this would be a far less adventurous task. Thankfully, we used Von's online grocery delivery for our second grocery purchase.
Don't miss the bus. Riding on the shuttles to Disneyland and back wasn't too inconvenient. The shuttles (ART for Anaheim Resort Transit) ran every 20 minutes, but the last shuttle for each day was always jam-packed.
Bring less stuff. This might change as the kids get older, but we brought activities for adults to do after the kids went to bed, thinking it would be a vacation for us too. Bring only a few and just take a nap or go to bed when the day is over.
Wi-Fi anywhere, almost. The FreedomPop wireless hotspot helped us be connected when the hotel complimentary wi-fi wasn't working in our room. Even when the hotel wi-fi did work, the FreedomPop had faster speeds. It didn't work at the Long Beach airport though, when I needed to look up airport-to-hotel shuttles, and had some dead-spots in Disneyland. Still, having internet mostly wherever we were was very convenient.
Mimic routines from home. I didn't plan on conveniences we took for granted at home in caring for Bruce. Our ritual has been to use a bouncy seat or wearing him in a backpack to put Bruce to sleep. Without that baby gear in Disneyland, we had to figure out a new way, which involved pushing him in a stroller in circles until he fell asleep.
Seeing the big picture. Bring a video adapter for iPod or iPad to hook up to the television. We can watch movies we want from the iPad hooked up the televisions in the hotel room instead of crowding in front of an iPad.
Quality or quantity? Why not both? Shoot pictures in RAW and JPG, so I can review them at the end of the day on the devices that can open JPG images. Then, if I end up shooting too many pictures to process, I can hand-pick my favorites and process just those RAW files instead of the 2,000 I typically bring home.
Bringing the Virtual to Life
What I appreciated most of the experience was the great length Disney has gone to bring their characters into our world. Our first contact with the characters is usually our visit to their world, whether it is in the form of a movie, book, toy, or song. Disneyland provides a connection point for anyone to come into contact with the sights, sounds, touch, smells, and tastes of their imagination. For a child, it is magical to exist somewhere they've only imagined.
It also made me wish that a place of equal creativity, care, and love could be crafted for Jesus—a place that anyone could come and make a real-world connection with Him so He is not so abstract. A place to celebrate someone who went to great length to bring his people to life. Now, that's where I would call the happiest place on Earth. Perhaps, that place already does exist, it's just that the rite of passage is just a one-way ticket. But, if it is truly the happiest place, why would we ever want to come back?
See our photos from Disneyland »
World of Color