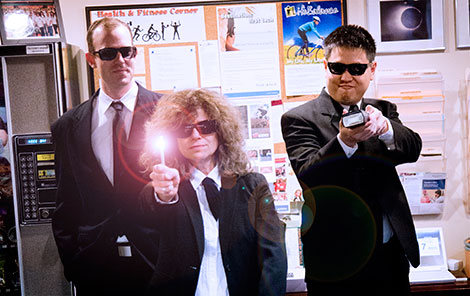 "You know, we'll have to do the routine," I messaged to Agent R1. I never got a response so I assumed he understood my joke. I underestimated Agent R1—and that's putting it lightly.
Tuesday
Let me back up to Tuesday before Halloween. I was surprised that the usual suspects in my Marketing department hadn't planned a magnificent group costume yet. It had been a busy fall season, so I figured they were busy with other responsibilities. However, it was quite a shame to not do anything for Halloween. I can be a stickler for traditions. And competition has gotten fierce in the office the last few years.
I generally shy away from costumes since they attract too much attention to myself. And I don't do elaborate. The idea of dressing up as "Men in Black" stuck with me since it's simple and recognizable. After sharing the idea with Jack and Jenni Tuesday night, it seemed like it would be worth trying. So I emailed Ryan (Agent R1), the web designer I work closely with, to see if he'd join me. The props were simple enough—so I thought—just a suit, tie, sunglasses, and a gun.
Wednesday
I find out that Ryan doesn't own a suit jacket, a white dress shirt, a black tie, or black sunglasses. I gave him a hard time about not having a suit. It seemed like the idea was not going to pan out. After some pondering, I asked him if he would join me if I could provide the missing pieces. And he agreed. I had a spare of each clothing item at home as well as an armory of Nerf guns. I just had to get matching sunglasses—inexpensively provided by The Dollar Tree.
I was pretty excited after getting the sunglasses. I sent a picture of them to Ryan so he didn't get a pair himself. At the end of the message, I joked to him about learning the dance routine Will Smith for "Men in Black." Since he didn't reply, I figured he realized it was a joke.
Thursday, Halloween
When I arrived to work, Ren (Agent R2), the senior graphic designer, informed me that she would like to join me. She had thought that no one was doing costumes in our department this year, but found out from Ryan that we were doing Men in Black. Not wanting to be left out, she brought the necessary props, sans a gun, but I had a few spares. After I debriefed her on the plan, I added the same joke I told Ryan, "And you know there's a dance routine right?"
She was horrified at the idea. I was messing with her, but Ryan chimed in and told her that it was relatively simple. I was shocked that Ryan was on board for dancing in front of everyone at work. But, hey, "go big or go home!"
We made a strong effort to learn the routine in fifteen minutes. I simplified some of the moves and isolated just one phrasing. But even then, it was too intimidating for Ren. She quickly bowed out all together. I really didn't want her excluded, so I improvised the choreography so that just Ryan and I danced, then she would walk in front, do the signature "flash" with a pen—just like the neuralyzer to make everyone forget what they had just seen in the movies.
Everything came together last minute and it worked out.
When our time came to show off our costume, I brought out my iPad to play the song segment I had edited. I started the music and got into position. Ryan and I couldn't hear anything because all our coworkers were laughing so hard at our costume. I signaled to Ryan and we boogied down, Ren stepped in front at the end, I took out my camera flash, and BAM! We were a hit and won the best performance award.
Our Performance
We are Vernier in Black. We are your last and only line of defense against bad design. We make it look good.