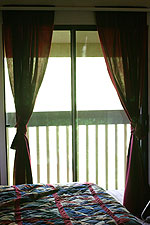 The past few days, the sun has seeped through our vertical blinds, so I'm glad Jenni worked on putting up some curtains to keep our bedroom dark while we sleep. I'm pretty happy with the setup, the curtains are a nice deep red that blocks most of the sunlight on its own, and with our vertical blinds pulled over, our bedroom gets pretty dark.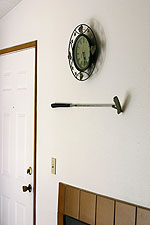 I decided to add a little something to our household as well. I thought our apartment lacked the 'country' feel that Jenni often jokes about, since she refers to herself as a country girl. So what's a wanna-be-hick to do? Mount their prize shotgun above the fireplace, of course! Well, until the day I get one (ahem, never), the EasyStreet golf club will just have to do. If any intruders come knockin', I'll have my trusty putter ready to show them my other kind of swing.
I actually won that putter at a web development conference last July. I put in entries to freebies to all the vendors in between sessions and ended up winning the putter and two golf balls from the internet service provider my company uses. Guess EasyStreet didn't get a new customer lead as they were hoping. Anyone up for miniature golf?