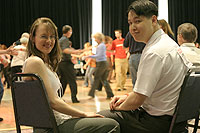 At BridgeTown Swing 2005, Jennilyn and I won tickets to Reno Dance Sensation 2006 when we placed first in intermediate and novice jack & jill contests respectively. When I looked at the dates of Reno, I was pleasantly surprised that our first wedding anniversary was the same weekend. What better way to celebrate our first anniversary than to go dancing? How about dinner, dancing, and a show?
Appetizing Sarcastic Safety Spiels
We left late Friday morning on Southwest airlines for a direct flight to Reno. Our friend Tracy was kind enough to give us a ride to the airport, and we got to catch up with her all the way there. When we boarded the plane and got situated, the main stewardess started the usual airplane safety spiel… with a twist.
"If the oxygen masks come down, please stop screaming and put it on. Wives, you have a choice to help your husbands… or not. If you're sitting by a child… I'm sorry."
"Ladies and gentlemen, we will be serving beverages shortly. You'll find a menu on the back of the in-flight magazine. We're currently all out of "I don't know" and "What do you have?"
"Be careful as you open the overhead compartments. Your luggage will jump out and hit you."
"This is a non-smoking flight. Don't even try it. The fine for smoking is two thousand dollars. If you could afford that, you would be flying American."
"Thank you for joining us on a direct one and a half hour flight to Orlando, Florida. If you haven't paid attention to me, well, you're on your own."
The Seven-Course Meal with a Buffet on the Side
When we arrived at the Reno Hilton, I was struck by how enormous it was. There were slot machines as far as the eye could see. Within the hotel was a mall, wedding chapel, diamond jewelry store, family fun center, and a whole lot more. Jenni and I enjoyed having multiple restaurants to choose from and all in one area. We dined twice at a Chinese/sushi place where Jenni enjoyed the dim sum "Har Gow" or shrimp dumplings. We also dined at the Johnny Rockets, a fifties-themed diner.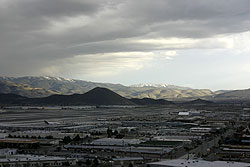 Our room was on the sixteenth floor and what felt like two city blocks of walking to get to from the elevator. It was almost at the end of the hall of green and red seizure-inducing doorways and carpeting. However, when we got into our room, we were quite pleased at the enormous size of it. Plus it had a great view… of the airport. And the mountainside of course. I believe our room was made for a handicap visitor, but we didn't mind the extra space. We settled in with a quick lunch then went to a balboa intro class. Note to self, when dropping in a balboa class 15 minutes late when they'll be dancing over two hundred beats per minute, be prepared and stretch first. It certainly warms a person up.
Reno Chef's Special Entrees
Kyle Redd and Pete Green served as co-emcees of the event and they did a great job together. I enjoyed their antics and jokes. Sometimes they went a little too long on an inside joke, but they kept things moving. Their play off each others' last names was creative and humorous. I also chuckled at the end of the advanced J&J, when they spiced up the normal applause and bowing sequence. Kyle ran down the line of competitors fake shooting all the leads and they would bend at the waist for their bow. Then Pete ran down the line shooting the follows, giving a few extra shots at Sara Breck.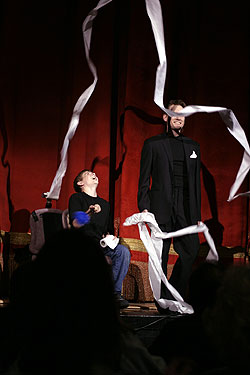 One special element of Reno that I felt was a great idea was "The Show" which was a dinner show (without a dinner) at the Reno Hilton's theater, which used to be the biggest theater in the world. People came dressed up and watched pros from not only swing and salsa, but singers, hip-hop dancers, a magician, and an amazing tap dancer. It was a great alternative to classic and showcase divisions too, since we get to see the routines we would've seen in competition, but with the flair of a stage and the lighting.
The highlights of "The Show" were special routines from Arjay and Melissa (or as Chris Jones put it, Melissa and her prop named Arjay) which showcased Melissa's dance background, Jordan and Tatiana's latest routine done with stage lighting, a phenomenal tap dancer, and a blues artist Brother Yusef. He usually sings at Disneyland which he made a sly remark about how blues music is sad but he's playing at the happiest place on Earth. Go figure. The songs he played were great, especially the last number, which I'm sure every swing dancer in the theater wanted to groove to. Now, wouldn't that be something, dancing to live blues music?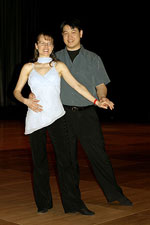 Fighting for the Check, Chinese Style
For competitions, Jennilyn and I entered in the Open Strictly Swing together. I was a bit nervous when I read on the schedule that they were lumping intermediate and advanced dancers together. There were many great dancers, so when Jenni and I got called back to finals, we were thrilled and very flattered to be associated with some of the best non-pro dancers. We were also glad that Ian and Trina and Jimmy and Brenda made finals too. We didn't win any awards, but getting the chance to dance in the finals was an honor.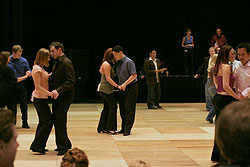 For Jack & Jills, I was sad that Jenni didn't make it to finals. She had some rough draws, but two of them made it to finals so she helped them on their way. I was pleasantly surprised to make it to finals since it's my second try at intermediate. Only one of my partners made it to finals, Stephanie from Phoenix. She later won first in intermediate with Aaron Batista. Oregon did well, I finished 3rd in intermediate with Audrey Womack, Jimmy and Brenda took fourth, and Will Shaver and Kristi Downey made fifth. Darren Shepard made finals in his first trip to Advanced J&J. Ian and Glenna won first in Masters Strictly.
The champions competitions were pretty fun to watch. It seems that the new mark of being a pro is competing in jeans. When it came time to do the all skate, the event took it up a notch. Brother Yusef came out and played live for the pros to dance. I never thought much of dancing to live music, but after seeing the pros just work the floor to Yusef's tunes, WOW. It really showed why they were pros. They didn't know the song but could interpret it, hit the breaks, and make it look effortless. Then they had Yusef play one more song and everyone swarmed the floor to dance to Yusef's blues.
Sweet and Sour Desert
Bringing a small cooler with food is great for cost-effective snacking. We used the ice machine for continuous cooling during the weekend. Hungry for hot soup? Bring a can of your favorite soup and use the coffee maker to heat it up. No coffee pot, like the Reno Hilton? No problem. Fill the sink with hot water and soak the can of soup or let hot water run on the can for five minutes!
Don't trust labels or bottles in the shower to be what you think they are. Always ask your wife first. I took a mini bottle of what I thought was the shampoo and found out later that I washed my hair with dish washing liquid. The following night, I took a different bottle in the shower, which was next to what I thought was just conditioner. I wondered why the hotel shampoo sucked so bad. Well, it's because it was moisturizing hand lotion.
Toothpicks Anyone?
We enjoyed our trip to Reno Dance Sensation. If we go to Reno again, we hope to stay longer and visit Lake Tahoe. Props to Chuck Brown and his crew for putting on a stylish event.