"Here's my new favorite name to say: Jenn-e-lynn Lim," – Grace Killelea, BridgeTown 2006 M.C.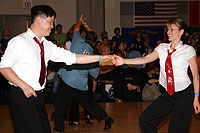 Last year's BridgeTown experience is a hard one to beat. Not to say that this year was plain or boring, but going in to BridgeTown 2006, I knew I could not expect a repeat of last year's magic.
It was five days of pure dance craze, four of which was actually BridgeTown. Wednesday night before BridgeTown officially started, Jenni, Jack, and I saw "So You Think You Can Dance" perform in Portland, with west coast swing showcase champions Benji Schwimmer and Heidi Groskreutz. Jenni and I got Jack a ticket to the show for his birthday in August, but we couldn't let him go alone. We were seated pretty high and back, but it was great sharing the experience together, and other dance friends we knew in the crowd.
In terms of BridgeTown, I have to admit, most of my thoughts of the weekend are behind-the-scenes since I was the ballroom facilitator. It was the third time in that role and have had a great times working at BridgeTown. I didn't do it last year because I wanted a chance to be on the audience side of BridgeTown with Jennilyn and Jack. Being back behind the scenes, most of my energy was spent helping people and making sure things were going smoothly. I enjoy the serving aspect while working an event. With the magnitude of people and complexity of a dance event, there are bound to be problems and needs. So I'm glad everyone working at BridgeTown rose to the challenge and gave 110%.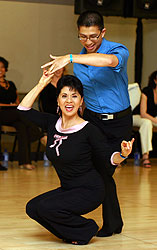 Since I'm not going to get into the inner-workings of BridgeTown, I'll start this recollection with competitions. BridgeTown attracted many higher-level competitors this year, making the comps thrilling to watch. In past years, there are only a handful of advanced Jack & Jill competitiors. This year, there were so many that they had to do a preliminary round. Novice level had a lot of competitors as well, eighty four total competitors.
As I compete more and more, I see the next generation of competitors starting off stronger than when I first began. Jenni and I were really impressed with the novice dancers, as they all showed exceptional abilities for their level. There were a lot of OSU students and alumni who competed and did well. I was very happy for Tovah placing fifth in novice, and equally happy for Jordi placing fourth.
In intermediate, we were privileged to get spotlight finals. As I was getting ready, the contest coordinator got a hold of me and told me that I needed to set chairs out for the intermediate Jack & Jills. I'm sure my eyes opened wider as I wasn't expecting to do a spotlight final. But I remember once hearing someone say they wanted to get into advanced as quick as possible because of getting to do spotlight finals in that division. I admit, I look forward to competing at the advanced level for spotlight-style competitions, but I'm glad I've gotten the opportunity during novice and intermediate.
While spotlights are pretty nerve-racking since you're the only couple out there, I appreciate the results much more. When all the finalists are dancing at the same time, what could happen is that a judge could see only your worst ten seconds and someone else's best ten seconds. In spotlight, everything is revealed—your worst and best ten seconds.
I was pretty nervous going up there, but I was able to calm down before I danced. For a while, I played "what-if" scenarios in my head: what approaches would I take if I drew certain partners. I thought about how I would like to stay in intermediate for a while, so if I did win first place, I would stay until I was forced to go up. I also imagined drawing Jennilyn as a partner and wonder how that would turn out. Then my thoughts turned to what if Jennilyn won first, then she would be moving up to advanced, and leaving me to catch up.
When I saw that one of the most capable leads drew Jennilyn's name out of the cup, most of the guys murmured about how Gilbert and Jennilyn would be the first place couple. But their dance was a little rough so I couldn't tell for sure how they would end up.
When it was my turn to get up, I drew Carol Gagne from the cup. I had danced with her once before at another dance event so I had some idea of what her connection was like. I had a very enjoyable dance with her. I couldn't get into the song very well, but we had a solid dance. I was a bit disappointed with the song choices for intermediate overall, but the songs did bring out who could be a more versatile dancer. Carol and I had a solid enough dance to land us in fourth place. Jennilyn and Gilbert took sixth. Jennifer Clark, my novice Jack & Jill partner last year, rose to the challenge and took first this year, and winning the overall amateur. I was very happy for her.
For strictly swing, Jennilyn and I had a great time. In the preliminary round, we had an outfit theme that seemed to impress a lot of people. I have to give credit that I first saw it at a previous dance convention where Ben Morris and Stephanie Batista wore black pants, white shirts, and black ties. Jenni and I almost went with black ties, but I remembered that I had two red ties, one of which, had a pink rose on it. So it was perfect, she would wear the tie with a rose and I would wear the plain red tie. We kept them loose at the neck, so it wouldn't be too formal. Just semi-formal.
We had great dances and made finals together. During finals, something Jenni ate bothered her, so our final dances weren't as strong as it could've been, but she was a soldier through it all. And we did well still, placing third in a competitive division.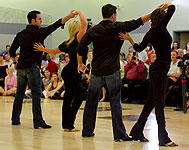 The professionals gave a great show as always. Jordan, Tatiana, Jessica, and Parker did a group demo that was fun. They did some great exchanges of partners and showed off some of their cool tricks. All the invitational Jack & Jills were pretty thrilling; such that I wished their competitions were earlier in the weekend to inspire us all before dancing our own competitions.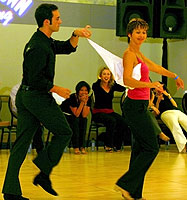 The most shocking and crowd-roaring was Jordan and Patti's invitational, and it was one of those moments where all the women knew what was going on before the guys caught on. Jordan and Patti got the song "Buttons" by the Pussycat Dolls, in which part of the lyrics sings about loosening up buttons. Jordan proceeded to remove Patti's long-sleeved shrug. What Jordan didn't realize was that Patti had safety-pinned it onto her tanktop underneath near the armpits. The female pros had one heck of a laugh as well as the audience. Patti returned the favor later by unbuttoning Jordan's shirt, but luckily, everything stayed family-friendly.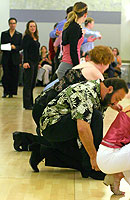 One great moment in the competitions resulted from a mishap in the open night club two step finals. Our friend Trina's partner was missing in action and she was left out all by herself while everyone else had their partner. So to delay the competition, and give her partner time to show up, the competitors (initiated by Patti) lowered to one knee and untied and tied their shoelaces, to buy Trina's partner some time. It was just great seeing everyone helping Trina out.
Another moment on a similar note was when Tatiana's shoe had problems, and lots of ladies came to her aid to provide shoes for her to dance in. Grace joked about all of them as ladies in waiting trying to find the magic glass slipper for BridgeTown's Cinderella.
I didn't get a whole lot of dancing in for the weekend, because by the time late-night dancing rolled around, I was pretty wiped out from working the event. I wasn't terribly disappointed though, as I'll get more chances to dance later on. I did get a great dance in with Libbat, Mary Ann Nuñez for B-Tribe's "Sometimes," and Patti Jobst as well. I wish I had gotten a dance with Stephanie Batista. Perhaps another time. I had great dances with old and new friends. I danced with a few new people, but most of my dance time was to people I knew and didn't see often.
BridgeTown had a ton of people present this year, the dance floor was often crowded with people and was happily busy with activity. After the event, we were able to get another group photo to commemorate the year. This is the biggest group photo yet, and I look forward to seeing it grow some more next year. We missed all those who weren't able to share the event with us (Clark Petri, Marco Widharta, Brianne Zanella, and Kat Gardner come to mind), and I hope everyone keeps dancing.