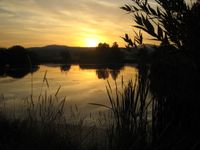 The company I work for celebrated its 25th anniversary this year. As part of that celebration, the whole company was invited to Sunriver, Oregon for a weekend of relaxing and socializing, all paid for by the company. Jenni and I received a luxurious second floor room at the Sunriver Resort with a vaulted ceiling, a cozy king-sized bed, and a porch with two rocking chairs. We didn't stay in the room much since we looked forward to playing in the pools and hot tubs.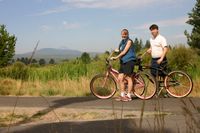 Jenni and I took a nice leisurely bike ride along the Deschutes river. Both of us haven't ridden a bike for a while, so it was great to get on two wheels and enjoy the scenery. Jenni got a hot pink one-speeder, which received several compliments.
We got together with everyone for a sunset barbeque for one night, then the next night was a semi-formal dinner with entertainment. For entertainment, we had a DVD that celebrated all the company and world events that happened over the last twenty-five years. It was great seeing how the company started with a daring married couple to an award-winning company of approximately eighty employees. There were also several gag videos that garnered collective laughs from everyone.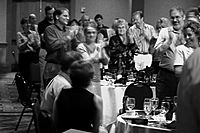 The CEO and CFO, the original married couple who founded the company, had some great words to share before my boss shared with them the employees gift to them. I was extremely happy that everyone gave a standing ovation to David and Christine Vernier, for while everyone in the company serves a role in its success, there is an undoubted spirit that makes the company what it is, and that spirit comes from the Verniers.
The festivities after video entertainment was casino-themed. We all gambled with play money to exchange for raffle tickets, which would allow us to bid on prizes such as eight vacation hours, a free round-trip airplane ticket, and various gift certificates. I didn't win any of the big prizes, but I was proud to hold my own in a game of Texas Hold'Em, especially against a coworker who was from Texas =)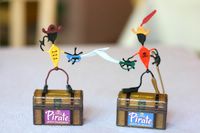 Before we left Sunriver, we wanted to find a Christmas tree ornament to commemorate the trip. We went through the Sunriver Village Mall looking for something bike-themed. We searched high and low, and couldn't find anything suitable. So in the end, we reverted to our Jenni's pirate nature and got us some pirates.
The four-hour drive each way was not at all long, as I feared before the weekend came. Jenni and I enjoyed several meaningful conversations about future plans, prospective projects, and sharing what's going on. The trip went by very fast, but it was a wonderful gift from Vernier Software & Technology.
We had borrowed the company camera to take pictures because it's compact, making it ideal for outdoor adventures. It also has a great video mode, so Jenni created a cool video of the scenes we saw while bike riding and our road trip home on highway twenty-six. Enjoy the short video clip and the pictures!
Sunriver – The Movie (2.5 minutes) »
See pictures from the weekend »