Trudy once asked me to recap my pregnancy month by month. Rather than do that, I think I'll hit some of the highlights I wish to remember.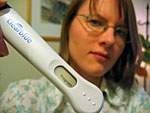 First off, our pregnancy was a surprise. Mom thought we were so detailed and planned that she was completely shocked when I told her last month that we didn't plan it. But it actually worked out better than our original plan, and so for that we thank God that He does everything in His perfect timing.
From the start, Rachel has been my confidant and encourager. She was the one I called with my frustrations of what to do with David before I knew he was a Christian (before we began our courtship). She was the one who called me weekly during our engagement, to keep me accountable in the area of purity before marriage. She was the one who encouraged me to go ahead and take the pregnancy test when I was wondering if I really was pregnant this time. And now she is going to come and be our doula for our baby's birth! That in itself is a story.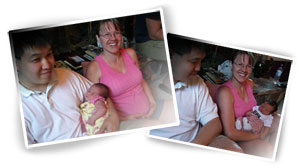 David and I had heard the birth stories of two of our childbirth classmates, and I was a bit discouraged at how long and difficult their labors were. I originally just wanted David, the midwife and the nurse to be the only ones in the delivery room with me, but then I got to thinking that if David wants to help catch our baby, who would be hugging my shoulders, supporting me? And who would take a picture of David holding up our son or daughter? So I asked my mom if she'd be willing to be with us. But then I got to worrying that I might have a hard time relaxing through the pain of labor without drugs, especially because of my body's chronic weak spots that give me pain already. I have confidence in David being the calm and soothing person that I will need. And if our roles were switched so that I had to be the calm person for him, I believe I could do that too. Even still, because I'm so close to him, I can't imagine being able to detach myself from his suffering enough to completely hide my anxiousness. And even though mom has given birth to me and my 3 brothers, and has been with me through some of the most physically painful times of my life, what if she doesn't wish to see her daughter go through more pain (though, for a good reason this time)? I pondered what to do about these probable anxieties because I have learned through class that relaxation is really important for dilation. (Pictured above: our classmates' babies, Ellie and Caden.)
I got to thinking, since we are both new to this whole "birth thing," it might be nice to have a doula there for support if we need it – someone who's been around lots of births, knows what to expect, knows what to suggest if things aren't going quite as well, a knowledgeable and reassuring voice that everything's ok for both me and David. David is wonderful and encouraged me to do whatever would give me peace of mind for our child's birth, and so that is when I started dreaming – what if Rachel could come?
David pointed out that his company had yet to hold their fitness challenge drawing from which the top two prizes are an airline ticket to anywhere in the U.S. His CEOs are very generous and give them away from their mileage points.
So I started praying. I called up Rachel and, hesitantly, told her about my wild dreams of her being able to come for the birth. It would be a lot to ask of her and her family since she has four kids, and would have to fly out from Montana to stay for an indefinite amount of time. She was glad I asked her to be there, and said she would pray about it, too.
Happy was the day when I called her up from David's company picnic to tell her that he had won a ticket after all! Her husband is gracious enough to give her and his 6 month old daughter up for a couple weeks, and her three oldest boys are willing to go to a sitter after school. So, plans are in the making for her and Naomi to come and stay with us. I'm very excited about that!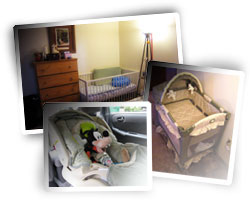 Part of getting ready for Rachel and her cute little girl coming included getting a real crib. Thankfully, the Portland branch of Ikea opened this summer, so we got a good, sturdy crib for a nice price, and Naomi can use our portable crib.
Also, from Ikea, we got a closet organizer that fits all of baby's clothes and blankets which hangs between daddy's slacks and ties.
After many attempts to get our car seat snugly installed, we figure out how to get the tightest fit: mommy and baby using their combined weight to kneel on the base while daddy tightens it. Goofy gets to ride around in the seat until baby comes.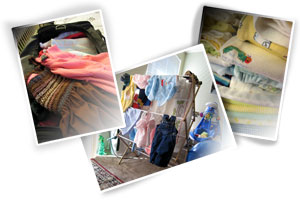 Back in January, when I first shared the news with friends, Jessica and Melissa totally hooked me up with bags of maternity clothes. David's boss and his wife, gave me some maternity clothes, and a ton of other baby stuff too! They gave us toys, a swing, carriers, gender neutral baby clothes, blankets, baby books, cloth diapers, and more! Another co-worker of his gave us bottles and things. A Creative Memories client of Leah's gave me a baby bath, door jumper, and books. And friends and relatives gave us lots of stuff we'll need for baby at the shower my mom and dad gave us, as well as the party Shannon and Tracy hosted!

Mom and Dad have given me clothes that my brothers and I wore, and they come out about once a week to help me with the house and cooking. Heidi came and helped me wash baby clothes and cooked some cookies for me. Jack has gotten my favorite Chinese food and soy ice cream for me. David has been cooking and cleaning a bunch more, as well as romancing me with roses and taking me out dancing.
When I was still struggling with morning sickness in the first couple of months, I woke up one morning to find David's thoughtful gifts of my favorite chips, my current craving, apples, and my stomach soother, peppermint gum. What a sweetheart I have!

In April, we took a trip to China. Talk about perfect timing – we had planned our trip back in December, got pregnant in January, and four months later, my morning sickness had tapered off just in time for the trip. During the trip, we celebrated our 2nd anniversary, and I felt the baby kick for the first time! David felt the baby kick a couple weeks later.
Since then, it's been a joy feeling the baby jump around, tap dance, do the back stroke, somersaults, and whatever else s/he is doing to keep occupied in there. Some of my favorite moments are when David and baby play with each other by pushing back and forth through my stomach. Sometimes I can't tell if I'm more excited to be a mother, or to see David be a dad.
One of the midwives at my clinic used to practice in England, where only midwives deliver babies, not doctors. I was so impressed with her knowledge, and delighted to find that she could hear the baby's heartbeat by simply putting her ear to my belly. She had David feel the baby's head, and listen to the heartbeat, too. So neat!
My overall health has greatly improved with pregnancy. As Trudy says, "Isn't progesterone wonderful?" Yes, I agree. It is the feel-good hormone. And my initial fears of the baby suffering ailments like mine are gone. Several doctors have reassured me that babies generally don't carry the burdens we do. The Lord is good, and takes care of His little ones!