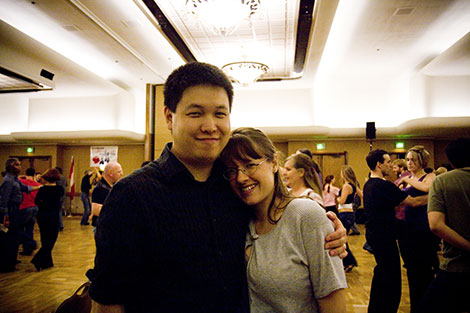 After missing BridgeTown Swing last year when I attended WordCamp Portland, Jenni and I looked forward to reuniting with friends and getting back on the dance floor this year. Jenni's parents were generous enough to babysit our girls for four days, and the BridgeTown Swing (BTS) staff were also generous by gifting us event passes for my work on the event website.
BridgeTown Swing is one of our favorite west coast swing events. We've won competitions, worked behind the scenes, and shared spectacular social dances with each other at BridgeTown. I went in this year with some hopes and expectations that were unreasonable and surpassed.
Kyle's Cool Quotes
If we were striving to improve our competition dancing, I would definitely want to take private lessons with Kyle and Sarah. I should say, if we still dancing regularly, I'd want a private lesson with them! We attended their lesson before the Thursday night dance and I found Kyle insightful and immediately quotable. I loved how Kyle and Sarah focused on fundamentals and basics for the majority of the workshop and extended from there. Two quotes from Kyle Redd that I remembered most (paraphrased because I have a terrible memory):
"Practice doesn't make you perfect…it just increases your repertoire of ways to fix mistakes." – Kyle Redd
I've always thought that practice does not equate to perfection because repetition is just repetition. Progress requires thought and reflection with the repetition. However, I found Kyle's insight about practice increasing the amount of tools we have to fix mistakes game-changing. Perhaps only practicing isn't as useless as I thought, especially if it helps us learn new ways to adapt.
"Balance is not something you have; it's something you do. It's a verb." – Kyle Redd
The power of this quote is that some virtues and goals we strive for are not an ends in itself, but a continuous path–like marriage. I once thought marriage was a goal post in life when it is a lifelong journey. I also extend this quote beyond physical balance—life balance. Having balance in our life isn't something we arrive at, but something we have to work at, choice by choice, to maintain.
Still Got It
Competitions are always a personal and difficult conundrum at west coast swing conventions. The thrill of competing usually trumps all the downsides, but they quickly manifest when things go awry. I had dreams of doing well in competitions since I have done so in the past. And I had a misplaced notion that our competition performance reflected the quality of our marriage.
Jenni and I couldn't decide if we wanted to compete as a couple for strictly swing since neither of us had danced in a while. Ultimately we decided to go for it since we'd rather be dancing than watching. Disappointed that we didn't make finals, I wrestled with whether not dancing together well in competitions reflected our marriage. Thankfully, Jenni is more reasonable and level-headed, and God helped me realize that we went out, not to win, but to enjoy competing together. Our dance ability did not reflect our marriage. Sometimes I wonder where I come up with this stuff.
That realization came along my other disappointment about not making finals in intermediate Jack & Jills. I suppose my first place win two years ago after not dancing much set my hopes too high. Ultimately, God taught me a lesson that true victories require work to achieve. If I could win without practicing and dancing often, it would ultimately be empty and unfair to other dancers who work hard. The fact that God allowed me achieve first alternate for my division says that I'm still a solid competitor, but not at the level where I could be if I danced more often. I had hope to say "Still got it" when I made it to finals, but I'm happier now to say "Still got it" as the first alternate.
Dance is not Life, but Life is a Dance
Jenni and I also realized that we can no longer participate at dance events like we did when we were single or married without children. Dancing until four in the morning still had nostalgic fun memories, but the sleep deprivation is too high of a cost when our little children depend on us. Going home early did not lessen our fun at the event as our enjoyment has shifted from dancing to dancers. We shared a great time with local friends and long-distance friends, like Clark and Tovah. We even met a new friend through Jack (imagine that…), Carlie, who is an Elementary school teacher that eats a "gift card diet" because she is frugal and receives many restaurant gift cards from her students.
One of the best moments was at the Thursday night lesson with Kyle and Sarah. One of the follows in rotation remembered me as the Portland Swing Dance Club president from years past. She thanked me for dancing with her, even though she was a beginner and I was the president and a more "advanced" dancer. She still remembered that dance all these years later. It reminded me that it is important to reach out and dance with everyone—it is a gift to both dancers.
Going to the event and having four days away from the kids helped Jenni and I reconnect with each other and with one of our life passions. We get caught up in our kids easily so we cherish the time we get to enjoy our hobbies, marriage, and friends.