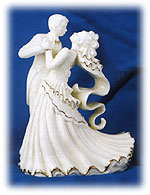 Jennilyn found a cake topper that brings out the fun, security, and closeness of our relationship. Here's our history with "dips."
I remember not dancing very well with Jennilyn the first few times, I felt that we didn't connect. But at Portland Dance Festival 2003, Jennilyn and I found our connection. We had wonderful dances and at the end of the night, I spun her in for a dip. I looked into her eyes and I was caught off guard that I didn't look away shyly like I usually do. I kept on looking.
One of my favorite photographs of Jennilyn and I was taken by Clark and it was a dip. We both look very happy to close. It's special to me because I love how Jennilyn smiles, and that picture captures her essence.