Ellensburg is a special place to me. It was where I was born and where I went to college for a few years. Since meeting David, I've visited his college in Corvallis several times for OSU's Ballroom dances. So last weekend, I was excited to get to share my college stomping grounds of Central Washington University with him.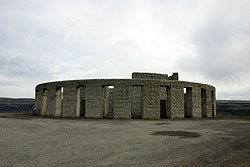 We took off Friday afternoon and finally made it out of Portland an hour later. Gotta love traffic! We headed east and made a quick photo stop at the Stonehenge replica just north of the Columbia River Gorge, south of Goldendale. We passed by Mt. Adams, which holds fun and not-so-fun memories of back pack trips with my family. As we finished our approximate 4 hour trip, I had already visited all the sites we would see in my mind, and revisited lots of memories of friends and happenings in the little windy town of Ellensburg.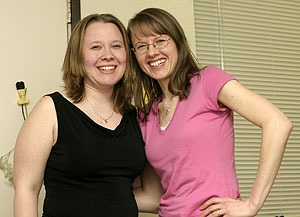 My friend, Nicole, and her roommate, Meagan, were gracious and let us camp out on their living room floor for the weekend. Nicole and I met at Salt Company, the young adult church group at the CMA (Christian Missionary Alliance). Several years ago, we were in a small group Bible study with Kim and Shawna, and Jenny. We had a giggle over some of our memories of Shawna putting masking tape all over her face like a mummy, and other events that I will omit due to it's incriminating evidence.
It was fun catching up with Nicole, as well as tagging along with her to a play. Ellensburg High School did a production of a musical called The Pajama Game. It is about Union workers at the Sleep-Tite Pajama Factory who are ready to strike for a 7 1/2 cent raise. A romance grows between the new superintendent, and one of the the workers, but they find themselves on opposing sides.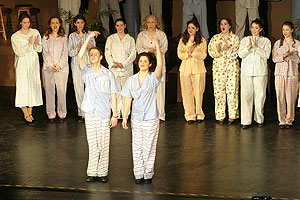 There were several entertaining parts to see, such as when the company president, Hasler, gives orders to the efficiency expert, Hines, to try on some pajama pants in the office. Hines buttoned up the pajama pants and comically hit the floor, pretending to be asleep. He rolled around yawning and going through silly antics until Hasler ordered him to get up and take a deep breath. The button popped off to reveal not only Hines' striped boxers but that the workers were sabotaging the pajamas along with other tactics to try and get their raise. Meanwhile, several other people walked into the office, obviously shocked to see Hines in his boxers, while Hines himself forgets all about it and continues in heated dialogue until his boss barked, "Get some clothes on!"
David and I enjoyed a lot of the singing and dancing talent of the actors. I also got to see several people I knew from the Ellensburg community theater group I performed with several summers ago in a musical called State Fair, including Dr. Don Childress, who played the mince meat pie judge, and was my waltz partner.
After the play, we tagged along with Nicole to a pot luck at her friend, Caleb's house. We watched a 1987 Johnny Cash concert DVD, and chatted about Johnny's life and other random stuff. Caleb was queasy about the thought of giving blood, while Nicole was trying to encourage him to donate sometime. I don't think it helped when we were figuring out how much blood is drawn, and Nicole held up her water bottle that just happened to have about a pint of water in it. Caleb sqirmed when she jiggled the bottle and the water sloshed around inside. "Ew! Don't swish it!" he yelled.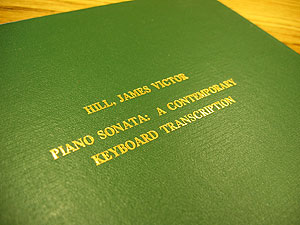 The next day, I took David up Craig's hill to view the whole town of Ellensburg. Then we walked all over campus, taking pictures. One important stop was at the library. It was there, on the fourth floor, I got to share with him my dad's thesis project, and the letter I wrote inside a few years ago. I know that that is definitely incriminating evidence, but I don't think anyone would care that the author's daughter wrote him a letter in his book. Only two other people besides me have checked it out since it was written in 1979.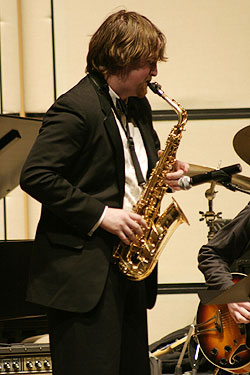 Our last stop was the new music building to watch my friend, Adam, perform with CWU's Wind Ensemble, and Jazz Band. I had been wanting to catch a concert of his for quite some time, and was glad to see him perform once more (besides our wedding ceremonty) before he graduates. I met him through the Swing Cats dance club at Central where I learned Lindy Hop from him and another friend, Paul. They both learned some West Coast Swing from me, and Adam and I even entered the strictly swing competition at Easter Swing one year. He and Paul were some of the goofiest friends I've ever had. They taught me some ariel moves in the library, of all places, when the librarian wasn't looking. They also gave me and my friend, Alyssa, pro wrestling names. Hers is Lazer, and mine is 90mph Rampage. Long story. More incriminating evidence.
After the concert we got some excellent burgers, with names like Hungry Mother, at the Tav, and then we watched several episodes of season two of 24. Adam and his friends really get into that show. I have to say they were way more entertaining to watch than the show. We headed back to Nicole's and hung out with Meagan a bit, talking about weddings since she's planning hers.
Sunday, Nicole, David and I went to church at CMA, where I got to see Ken, the pastor of Salt Company. He and his wife, Emma, took me and a group of college kids on a mission trip to Costa Rica several years ago. I remember Ken was so excited to get to see a real live sloth. Emma stayed in the hotel with me all day and kept me company when I got sick there. (I know, I know! Don't drink the water! I think I might have had ice in a Coke or something.) Anyways… I loved going to Salt Company every Tuesday night during my college years and I hated to leave my friends I met there when it was time to graduate.
It snowed Sunday morning, so David and I left right after church, hoping Satus pass would be clear. Before we left town, though, we did one last important thing. We drove by the hospital where I was born. David and I talked about maybe getting to see the place David was born, though that would require a trip to China. Hopefully… someday. The roads were ok after all, but the white trees looked like a scene from the Narnia that was always winter and never Christmas. The trip home flew by quickly as David and I had much to talk about from the weekend. We talked about what changes have happened in our lives since college, and imagined what changes we have yet to experience together in the future. Ellensburg was a nice chapter in my life, and it was fun revisiting it.