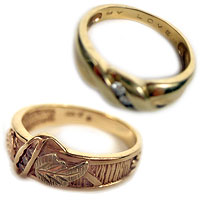 It's hard to express the joy that God has brought into our first year of marriage. He provided for us financially, allowed us to grow to love each other for our strengths and weakness, and celebrate each day with a kiss. He blessed us with great friends and family who supported us as we got our bearings. He sang to us as we danced together. I'm also sure He smiled as He shared jokes with us.
As I was reading my devotional this morning, I came across an excerpt that resonated with me. Though it is referencing the transformation of a person when they've received Jesus Christ as their Lord and Savior, God spoke to me that it is also a depiction of marriage.
"A new Nature is being not merely made but made out of an old one. We live amid all the anomalies, inconveniences, hopes, and excitements of a house that is being rebuilt."
– Miracles, chapter 26, page 155
It summarizes a marriage pretty well. After Jennilyn and I got married, we had to learn how to live not as one person, but two people as one. Again, with much grace and wisdom from God, I believe we managed to weather our first year together, growing stronger in trust, love, and faith.
Jenni and I have a few multimedia shows to celebrate our anniversary. The first is our pre-wedding slideshow, showing delightful pictures of Jennilyn's childhood and incriminating evidence of my youth. We had scanned over eight hundred images and we managed to trim it down to about a hundred and fifty pictures for the final version. As you can imagine, the file is fairly large, but the pictures are a fun trip down memory lane. We've also put it to music (at our wedding, we had my dad, Jenni's dad, and Jenni's friend, Adam, play live music to the slideshow) to help set the mood. We used the following songs:
Light and Song by William Ackerman
Sunrise by Norah Jones
You and Me by Lifehouse
Lord, You Have My Heart by Delirious
Play Pre-Wedding Slideshow. (Windows Media. 16 MB. 12:04)
The second slideshow is a short highlight of our first year together. We chose another Norah Jones song, Come Away With Me, because we enjoy the slow, soft, romantic feel of the song, which our first year resembled.
Play First Anniversary Slideshow. (Windows Media. 5.38 MB. 3:10)
We have enjoyed learning about how to love God, each other, and other people in our first year together. We look ahead with great anticipation as we're still honeymooners, going by the "Year One" milestone. Thank you for joining us on our adventure!