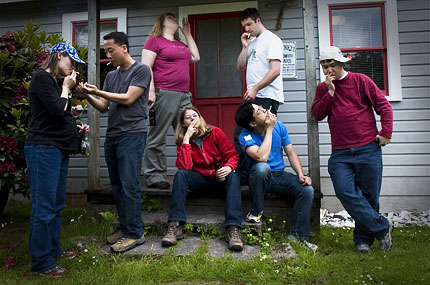 Oysterville is synonymous with fun. Lots of fun. It has always been a pleasant surprise and inspiration of creativity from my friends when given the right amount of time, props, accomplices, and weapons.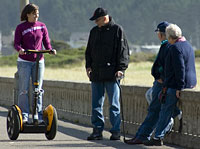 After a long and busy week at work, my boss let me finish off the week with a half day, which gave Jenni and I a chance to get to the beach earlier. We took a leisurely drive to Oysterville and found ourselves enjoying the trip to our destination. At Seaside, we got our negative ions from the beach and saw a segway with yellow highlights.
We arrived at Oysterville shortly before sunset and headed out to the coastline with Clark and Mary. Cloudy skies rolled above the waters. In a distance, we saw a red-orange Jacob's ladder as the sun settled into the waters.
We played hearts for a while before the rest of the crew came. Jack, Bobby, and Tiffany rounded out the crew of seven for the weekend. Most of them stayed up in to the early hours of the morning talking while Jenni and I got some sleep.
The next day, we ventured out to Long Beach to visit Marsh's Museum. I always enjoy seeing what strange items they have stocked on their packed shelves, say "Hi" to Jake the alligator man, and enjoy the statues of fantasy creatures. Jenni and I tested our kissing quality on one of their devices and we both were labeled "Thrilling."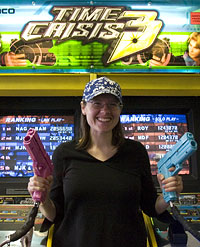 We spent the majority of our time at the arcade. Jack, Clark, Bobby, and Tiffany played four-player air hockey while Jenni and I waited for a ten year-old boy go through $15 on the game we wanted to play: Time Crisis 3. While waiting, we played some Jurassic Park, but the sunlight outside kept us from seeing the screen properly. Eventually, we got onto our game and sure enough, Jenni outlived me. Our whole crew watched as Jenni picked off the virtual enemies and cackled ever so evilly.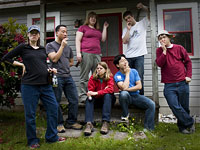 Back at the cabin, we pondered on what to do next. Clark had written in an e-mail that there was no smoking permitted, so Jennilyn brought her candy cigarettes out. A few laughs later, we were all outside the cabin for some pictures of us out-of-character: smokes and beers. A funny disposition given that Jenni is pregnant. We had great laughs as we posed with our candy cigarettes and bottles of beer.
In the evening, we brought out the classic Uno Stacko, which is probably the most photogenic game ever. Starting with 17 layers, we almost reached 29 layers before our tower crumbled. Every one of us thought we would be the one to topple the tower, but Bobby took all the honors.
And it wouldn't be Oysterville without firing the potato gun.

As we were packing up and leaving, Bobby didn't want his watermelon anymore. Rather than letting it go to waste, it was a perfect target for the potato gun. I thought that the potato would just knock the watermelon off, but I'm perfectly happy that I was wrong.

I look forward to our next visit to Oysterville. More time with friends, time to reflect on life, and a chance to be mischievous. As Jenni would imitate, "I solemnly swear that I'm up to no good."