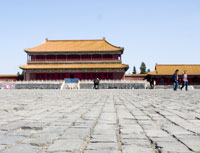 The Forbidden City was where the emperor resided. It is a city within the city of Beijing, surrounded by a large moat for defense. The ground was made of many stones, which made for a bumpy walk. There were many stairways and colorful rooftops. On some of the stairways would be dragons carved in stone.
I quickly realized as I tried to take photographs that it was futile to try to wait for people to get out of the way. There were just too many people.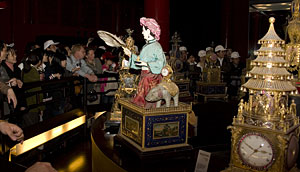 The city had several museums throughout, referred to as "halls." We were only able to visit a few of these "halls," such as the Hall of Clocks and Watches, Hall of Jewelry, and the Hall of Jade. The Hall of Clocks and Watches had watches from all around the world. They were made of gold and other precious materials. Most of them probably did not work, but they had a section of working clocks where people crowded around at the top of every hour to see them chime.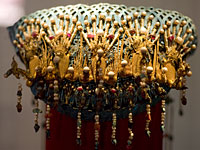 The Hall of Jewelry showcased fashionable items that the Empress and other royal ladies would wear. There were elaborate headpieces, rings, bracelets, and precious stones.
The Hall of Jade had very impressive pieces of jade on display. Jade of many colors, shapes, and sizes. I always thought jade was only green, but it looked great as orange and other warmer colors.
We also visited the theater, where the royal family were entertained. There was a miniature model of the theater nearby, and it showed all the props and contraptions for special effects. Some of the model set pieces were very impressive.
It's too bad we only had four hours to visit the Forbidden City. There was so much more to see, learn, and behold.