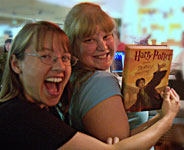 It's amazing that even a book launch could be an event. I guess the cynic in me says that our culture is caught up in the next big thing, but the optimist in me enjoys that people can celebrate everything and anything.
Jenni got interested in Harry Potter sometime last year when she had free time to read. I haven't followed the series quite as closely, but I have a working knowledge of what's going on from her excitement. The last book in the Harry Potter series was released 12:01am on her birthday, and we had heard about the book launch parties, so we felt we should experience the last launch party for Harry Potter.
We found that the Powell's nearby us was hosting a launch party, so it made it a convenient choice. We're very thankful that our friend Tiffany was gracious enough to drive out to our neck of the woods to join us. It was much more fun for Tiffany and Jenni to enjoy the Potter paraphernalia together than I would.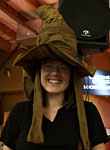 There was a station where kids (and adults) sat and had the sorting hat announce which house they belonged in. Throughout the night, you'd hear "Ravenclaw" or "Gryffindor" or "Slytherin" then immediate cheering or booing from the store. Kids and adults came dressed as their favorite characters. I enjoyed seeing one woman dressed up as a witch with her child as a house elf.
As the midnight hour closed in, the crowd got rowdier. They counted down with the Powell's staff and the rush was on. The cash register was creatively decorated with picture frames for each station, mimicking the living paintings at Hogwarts School. Powell's did a great job creating a fun party location for people to camp out for the book.
I enjoyed seeing everyone so excited about something. But my smiling moment of the evening was when two gals saw the camera around my neck and whispered to each other, "Now that's a camera!"