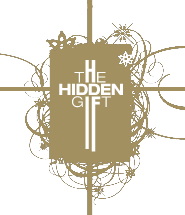 In early November, our friends Tracy and Pastor Steve Mitchell visited us for lunch. They approached us about being part of Beaverton Foursquare's Christmas ministry and Steve described the Christmas theme as "The Hidden Gift," And he wanted us to share our love story with the church.
Like a favorite movie, we've enjoyed sharing how God put us together with friends and family, but sharing it with our whole church body of what seemed like 3,000 people was… God-sized. We had asked God to use us for His purposes, and it was time to take a bigger leap of faith.
We spent an evening with Pastor Steve sharing various parts of our story. I realized while we were sharing that it would be impossible to include every miracle that God performed. Still, it didn't stop us from sharing and Steve handpicked the details for the magazine article he would write.
Steve was patient and thoughtful as he took our discombobulated story and condensed into the Christmas invitation magazine. Not only that, he had to do that for three life stories, as we were part of three testimonies, all of which are amazing. You can read all three stories by clicking on the picture below to load the PDF file.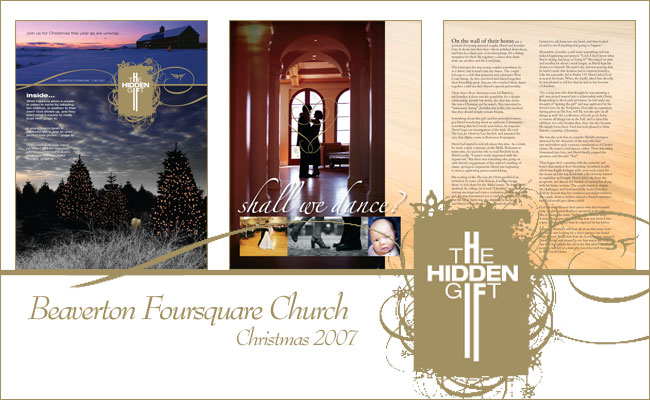 View The Hidden Gift magazine (PDF 2.42 MB) »
The magazine came out awesome. Since going to Beaverton Foursquare, I've enjoyed the design they have used in their branding and media. It's clean, elegant, and captivating. Someday, I hope that God will use me in that ministry.
One point I'd like to take note, was that Steve used a stock photo for our article image (see middle image) in the draft version. When we received the final copy, I did a double-take because the couple suddenly looked like us. Steve had carefully replaced the facial profile silhouettes based off a photo we sent him. Very subtle and made me smile.
With the magazine published and distributed, there was no turning back. From then, Jenni and I prayed and spoke about what we would say. We had about five to seven minutes to speak, and while that might seem forever, we had the opposite problem and struggled with how to condense our story and keep its essence.
I tried to keep the theme of a hidden gift woven into the testimony, as did Jenni. We eventually decided on sharing our story in our own two parts. I shared about how the presence of God in Jennilyn's life was attractive and mysterious to me, and how I came to know and love the Lord. Jennilyn would continue with her faith journey as her health problems caused her to grow closer to God. We would end by introducing our daughter, Kadence.
We were also blessed that we were able to have Kadence dedicated during the 11:15am service. It tied into our testimony well and our family was there to share in it.
We had an opportunity to practice our testimony the Wednesday before the big day. I was so nervous that I had to read from my notes instead of looking out at the audience like I wanted. But it was the wake-up call that I needed to discipline myself to practice it over and over so that I could speak our story rather than read it.
December 16th was a big day for us. We would share our story four times total at four different services (8am, 9:30am, 11:15am, and 6pm). Thankfully we live just five minutes from the church, so after the first service, we drove home so that Jenni could rest and feed Kadence.
Pastor Steve was very kind when he offered constructive criticism after the 8am sharing. He advised that I shouldn't use the word "sucks" in my portion of the story, and while it got a few laughs from the audience, it wasn't the most polite word to use.
One of the biggest and most important part of sharing was having my family there. I prayed that what I said would have impact in their lives and a witness to God's love for me—and them. I had to give it to the Lord as I couldn't save them—my story can't save them. I'm sure that they were intrigued as to what the baby dedication was all about and I hope that they could sense the love from the congregation as everyone stretched out their hands and prayed for us to bring up Kadence in the ways of the Lord.
I remember the first time I was part of a baby dedication. I have to confess that I didn't pray for the couple as everyone else did, I had my eyes opened and was touched at the sight of hundreds of arms stretched out with hands offering a loving prayer to the couple on stage.
After we shared our testimony for the 11:15am service, our family had a group photo taken through a service at the church and headed out to a Chinese buffet. I'm thankful that both Jenni's and my family got to visit with friends afterwards without worrying about who's cooking. It was a great time of fellowship.
We've received kind words from friends and strangers thanking us for sharing our story. It has been humbling to relive our story together as we prepared, prayed, and spoke about it. When I think about it, I question who truly was blessed by the experience; those who heard our story of God's grace, love, and healing—or us, to remember His promises and deliverance.

Watch the video of our testimony »
Here were our notes from the testimony:
David's notes
Good morning, my name is David and this is my beautiful wife Jennilyn. The first time Jennilyn and I danced together for the final round of a competition where the guys and gals were randomly paired. All the times I've ever seen Jennilyn competed, she always placed in the top three. When she danced with me, she didn't place at all. Although that was bit of a bummer, we started dancing with each other more frequently. One evening, we had one great dance after another. At the end of the night, I gave her a dip, we smiled at each other, and when I looked into her eyes, I thought to myself, "Huh."

From that dance on, we started to dance with each other a lot. We danced well together and it was fun. I also e-mailed Jennilyn quite a bit, learning about her and her faith. I asked what she was looking for in a dance partner. I was surprised that she would only partner with someone who was just a friend or someone she could eventually marry.

Several months later, prior to an upcoming dance competition, I popped the question, "Do you want to compete together?" I liked her, but I was convinced that I could control my feelings so that we could dance competitively together. She dodged my question, but as I continued to pressure Jennilyn, she admitted that she couldn't partner with me because she liked me too much. In my mind, I thought, "Wow, she likes me. Wait, now we can't dance together."

I thought it was unfortunate that the only reason we couldn't compete together was because our difference in faith. I concluded that it was worth investigating Christianity, if our difference in faith was the only reason why we could not be a couple, both in dance and life.

Jennilyn and her friends Tracy and Mary were inviting in my discussions of their faith. I was touched when I found out that they had started to pray for me. I was fascinated with their beliefs because the three women danced with joy despite their individual health challenges. Every dance for them, was a gift. A gift I took for granted.

Jennilyn got me the book "The Case for Christ" by Lee Strobel. We read the first chapter together, and I was unimpressed. But I continued and as I progressed through the book, my focus was less on Christianity but more on Jesus Christ.

I learned about how God came to us while we were still sinners and died on the cross for us. He did not come to condemn and punish, but to save because He loved us. He was not distant, but near us. God's love came in the gift of Jesus, and that gift wasn't what we wanted, but what we needed and what was best for us.

He forgave me of all my sins, past, present, and future. I did nothing to deserve His grace, and I owed Him everything. And all He wanted was me, where I was at. On February 13, 2004, I accepted Christ because I wanted the life He desired for me. And His life for me is full of abundant love, grace, and hope.

With Christ as my rock, I had no reservations of telling Jennilyn that I loved her. We started a courtship that God blessed into a marriage.
Jenni's notes
It wasn't easy refusing to be dance partners with David 4 years ago. I strongly considered it, but I could hear the Holy Spirit say to me, "Do not be unequally yoked." I had learned the hard way that missionary dating doesn't work and causes too much heartache. I cared too much about him to be reckless with his heart. So this time I listened to the Spirit's nudge and decided to do things God's way.

And God's way always turns out best doesn't it? He is the Father who delights in giving good gifts to His children. And oftentimes He surprises us with hidden gifts we never knew could be so good!

While David was going on his faith journey, I had one of my own. About a year before I had met David, my neck spasmed for a couple months. Pain spread throughout my body, and doctors were scratching their heads. Changing my diet helped for a while, but it was around the time David and I began our courtship that it was discovered that there were parasites in my guts. Actually, I had several things: parasites – Shanaynay, amoebas – Shaneequa, & Candida – Jezebel.

My life changed drastically and I could no longer dance. My mom quit her job to take care of me since I was bedridden most of the time. I couldn't even remember what it felt like to be pain free anymore.

Sometimes, the only thing that kept me going was just knowing that I was still breathing, which meant I was still alive. And that if I'm alive, God must still have a purpose for me to be living. I realized it was my task to keep going till I found out what that purpose is. I am so blessed to discover that part of that purpose is to be with David.

Even with my poor health, David was there by my side. He still wanted to marry me. He said he'd even quit his job and find a way to work from home to take care of me if he had to, and that he wanted me to live the happiest life I could no matter how long or short. I often told him "I'm the happiest miserable person I know."

About a year into our marriage, I got a call from my brother, Travis, who was in Holland. He and some friends prayed for God to heal me of the parasites. He told me they were gone, and I believed him. The next time I was tested, Shanaynay was gone.

Since then, my health has improved a great deal. David takes me out dancing again.

I still struggle with chronic pain, but it makes me thankful that I have a new body to look forward to in Heaven. I believe God can heal me completely, but until He does, I cherish the closeness I have with God in my brokenness, and His strength carries me through each day. He is so good!

Last summer doctors said I wouldn't be able to sustain a pregnancy.

But a day before that news, a friend had called me up to tell me a vision she had from the Lord. She saw me in a delivery room holding a baby girl with dark hair. I believed God was big enough to do that, too.

And now we'd like to introduce to our newest miracle in our life, our healthy little girl, Kadence Lim.