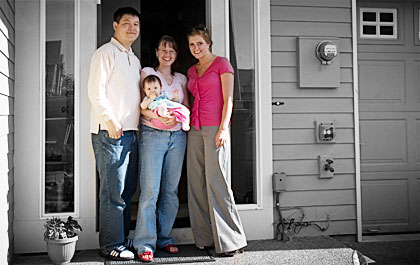 Color us blissfully broke, but we've moved into a house! Our realtor Ashley, pictured above, found this house on Craigslist as a for-sale-by-owner. The moment I stepped into the house, I had a gut feeling that Jenni would like it, and as we toured the house, the feeling only grew stronger.
What we liked about the house and location:
Met our 3-bedroom requirement, for future munchkins (and overnight guests in the meantime).
Close to the MAX, so I can take the train to work and we could stay a 1-car family.
Great-room style living room, more room for guests.
Kitchen with an island. Sounds luxurious and exotic eh?
Community pool so that Jenni can keep her sea legs.
Community hot tub for relaxing the muscles.
Gas stove, quicker to burn our food, wok-style stir-fry, and roasted s'mores all year round!
Kadie has her own room to sleep in and not be disturbed as easily.
A backyard for Jenni's gardening and summer barbecues.
Bedroom with a view, often of colorful summer sunsets in the horizon.
The price was a little over our comfort level, but we went ahead because the houses nearby sold for considerably more. The seller was selling the house for much less than what it was worth, so we were getting a good deal. On paper, we were walking in with a boost in equity.
We closed on June 4th and moved the days afterward. We had an incredible amount of help to get the house cleaned and painted, then moved our belongings in. Jenni's dad spent a few days with us cleaning, painting, and setting up. The weekend after we closed, we had many hands help us migrate our belongings, ranging from family to friends. Thanks Mom and Dad Hill, Mom and Dad Lim, Jack, Cory, Travis, Leah, and Steve for getting us moved!