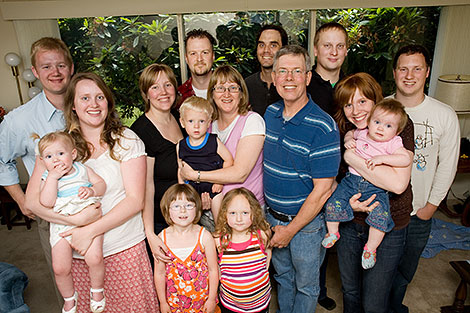 I went to my Uncle Steve's funeral today. He was my mom's younger brother, the youngest of 5. He had five kids himself, with some grandchildren too. Cancer is what took his life.
He had been diagnosed a couple years ago, and seemed to overcome it. But a while later the cancer returned. He had to stop teaching in September due to the pain, and from then on he battled it out until the Lord took him home last Friday.
I wish I could say I had known him well, but all I really know is that he was a kind uncle, and a very busy guy with teaching math, coaching swimming, carpentering, gardening, and raising my cousins. I'm glad to have been able to see him and his family often at Gram and Gramp's place on holidays and birthdays. He was always easy to talk to, and he had a jolly disposition that was fun to be around.
I remember my mom telling me and my brothers as kids that if anything ever happened to her or my dad, we would go live with Uncle Steve and Aunt Kathy. Not that I wished my parents any harm, but I had fun imagining living with the Wirtz clan. My cousins are a lively bunch. They play lots of games, and they had (maybe still do have) a punching/picking-on-each-other type of relationship with each other. Mostly good-natured teasing I think.
The Wirtzs camped at Battle Ground Lake a lot, and since we lived a few miles from there, we would sometimes hang out with them there. The first year I was married, David and I joined in the camping fun there since David had never been camping before. Unfortunately there was a drunk couple a few sites away that were fighting loudly the whole night and then vomiting in the wee hours of the morning. I felt so bad. I told David that camping was usually more fun than that. Oh well.
Back to the gatherings at Gram and Gramp's, on Christmas eve we would all go to Steve and Kathy's church for the candle light service, and then celebrate Aunt Kathy's birthday. We'd stay the night, and then open presents one at a time, with the gifts from the Wirtz clan being wrapped in their homemade tie dye tissue paper. They were always so generous and thoughtful in giving us gifts.
Towards the end of my uncle's life, though there was tragedy in the whole situation, I saw a lot of wonderful things happen. Family gatherings were a bit more meaningful to everyone, I think. I watched his kids pull together to take care of him. My other uncles came down from Seattle/Olympia more often.
It also made me remember just how blessed I am to have such wonderful family and extended family in my life. As I think of my cousins losing their dad, I am reminded of how amazing my dad is, how he goes above and beyond to take care of my family, as well as other people too. I love that he drove up to Longview for a couple of hours just to sit and play his guitar for Uncle Steve. I love that dad and my brother Cory would play guitar for me when I was really sick and bedridden during my struggle with parasites.
I also think of my mom losing her little brother, and how much I miss my little brother, Rex, as he's way out in New York. I look forward to shooting pop cans with BB guns with him when my neck and shoulders are better again. I hope he moves back home soon so we can stop in at his place once in a while if we wanted to, and so that we could all be together regularly.
Friday night I shed some tears for my uncle, not knowing that he had died that night until I listened to my dad's voicemail the next morning. I guess I was crying with the rest of the family in some way. I will miss him at our family gatherings, but I'm glad to know he's no longer in pain, and that I'll get to hang out with him again in Heaven someday. Love you, Uncle Steve.