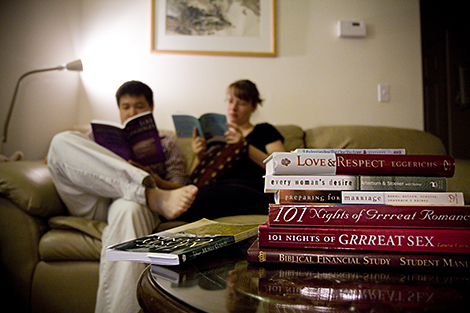 From the beginning of our relationship, we've both enjoyed learning from others what makes a marriage great. It is important to both of us that, not only do we avoid the alarming statistic of divorces, but cultivate a relationship that grows stronger with time.
There have been many books we've harvested wisdom, ideas, and laughter from. Some of our favorites are:
The Holy Bible: God's design for marriage is beautiful, strong, powerful, and amazing.
The Five Love Languages: Insights on how to love someone in a way that communicates love. We're thankful that both our primary love languages are quality time.
Love & Respect: Most husbands know that their wives love them, but they need something just as much—respect. Without both these elements, a couple can get on a crazy cycle where the husband doesn't feel respected, so he does not love, and the wife does not respect the husband because she does not feel loved.
Every Woman's Desire: A man's guide to understanding biblical authority in a husband/wife relationship as well as keeping the purity of the husband's heart.
Your Money Counts: Money is often a source of marital problems, so we made a commitment to understand how to handle finances God's way to help us make money a tool in our marriage rather than a stumbling block.
By no means are we experts or perfect in our marriage (every aspect is a work in progress), but these books have saved us from unnecessary heartaches and arguments as well as giving us tools to overcome obstacles and challenges together.