After ten years of employment at Vernier, each employee receives a four-week sabbatical. I remember thinking, wow, that's awesome! What would I do with four weeks off? And now, here I am, at the end of my sabbatical thinking, "Wow, that went by fast. What did I do?"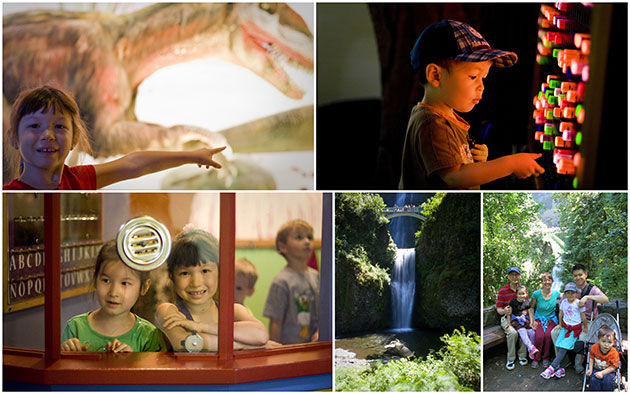 Family First
I took the kids out on day trips to get some quality and quantity time with them. We visited OMSI, Children's Museum, and Multnomah Falls. I really enjoyed driving the kids to new adventures, having them ask me questions, discussing random topics, and creating new memories. Even a trip to a car dealership for an oil change ended up being a fun afternoon as we built mazes with tracks and obstacle courses with bean bags.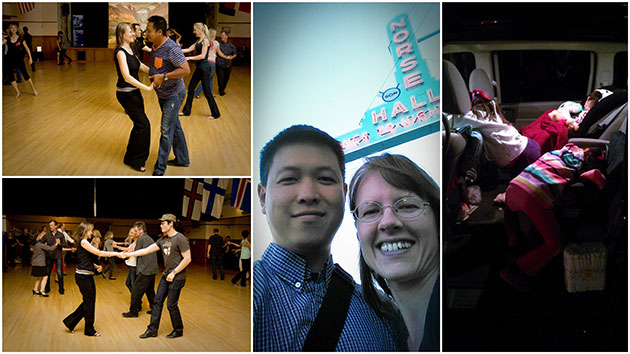 Dancing One… Two… Three…
Ever since we danced at a reception for a wedding we photographed in June, Jenni caught the dancing bug. First, we danced until two in the morning at Portland Dance Festival, recalling fond memories of our own dance crush. Then we treated our kids to a Saturday Night Fever dance so they could dance a little themselves. And we enjoyed showing off our kids to our dance friends.
Last, I mentioned a dance while we were visiting my parents, and my parents offered to watch the kids while we drove back to Beaverton for our dance shoes, then back to Portland for the Portland Swing Dance Club's dance. And… picked up our kids afterwards to get them to bed around midnight. Crazy? Worth it for the tired smile on Jenni's face as we got ready for bed.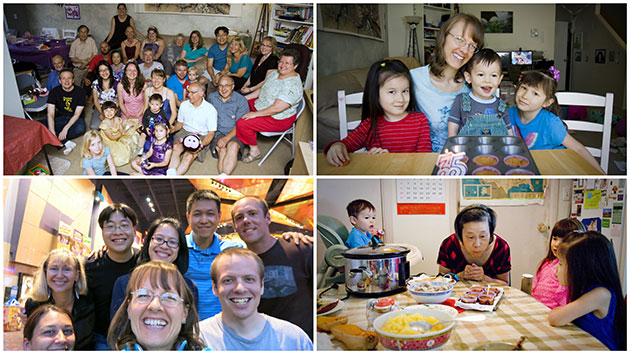 Birthday Trilogy
Violet. Jenni. And mom. We had fun celebrating cupcake after cupcake for birthdays.
Jenni always goes all-out for our kids and we invited friends and family to cram into our small house for Violet's fifth birthday. She was very blessed by all those came and we had a great time enjoying everyone's company. The food was amazing and GAPS-friendly—not that anyone really noticed. Best of all, we weren't burnt out the next day.
For Jenni, we kept it simple with a night out to the movies. We got a quiet dinner alone while the kids stayed at the babysitter's house, got some grocery shopping done at New Seasons prior to the movie, saw "How to Train Your Dragon 2" with friends and family, and shot the summer breeze with a decadent coffee cake with blackberries afterwards.
My mom enjoyed a quiet dinner at home surrounded by her kids and grand kids. With more cupcakes.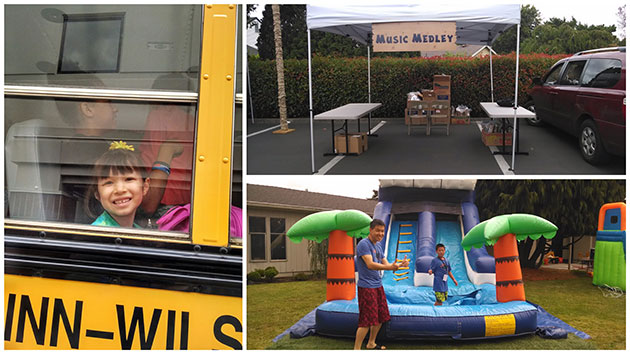 Beaverton Foursquare Day Camp
Kadie surprised me when she expressed interest in going to our church's week-long day camp. I had assumed that she would be too shy to go. When it turned out that the camp was during my sabbatical, I took the opportunity to volunteer since I would be driving her there each day. I also assumed incorrectly that I would just show up and help out. God had different plans—better plans to help grow my faith.
Beaverton Foursquare Church has an amazing children's ministry and I got to witness it first-hand with all the preparation and logistics poured into the first through third graders.
I was assigned a tent in a Jerusalem-themed marketplace where I taught the children how to make some simple musical instruments. Volunteers at the church not only helped me purchase all the necessary materials, they also tested each of the instruments themselves, and assembled the materials into bags for groups. I was initially stressed out at the logistics, but after I saw all the preparations they had done for me, I was relieved and very well taken care of.
During the week of camp, I got to see kids' faces light up when they built and played with laughing cups, rain sticks, and paper plate maracas. The laughing cup surprised me by being a big hit.
It was great to serve. One of the things I really wanted to do while I was sabbatical was some sort of community service. While I intended to give and not take, I felt that I got more out of day camp that I had imagined.
And I got to play on a giant water slide. Lead by example right?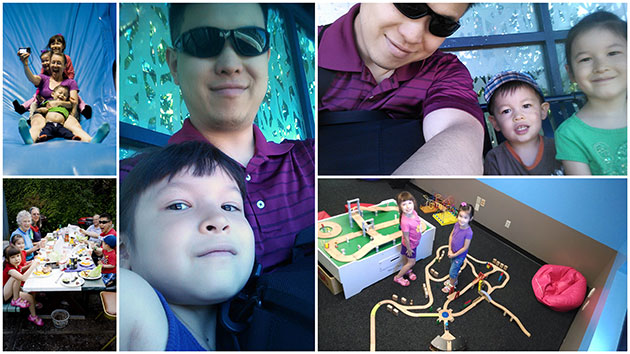 The Always-Weekend
The days began to run together after the first week. Without work, my routine was broken and I lost track of the days. It was an incredible blessing to get lost because I found myself slowing down to be present where I was and who I was with.
For Jenni, it meant enjoying time together in afternoons for a chat, getting dishes done before bedtime, and having time to do personal projects. For Kadie, it was an unforgettable week at day camp—she wants to wear her day camp shirt all the time. For Violet, singing a worship song with sign language while daddy finger-picks on the guitar. For Bruce, examining toy cars closely, shooting basketball by the stairway, fist bumping explosions, and constructing Hot Wheels® destruction derbies. For me, blogging this blog entry after midnight when I go back to work the next morning…
The best gift of my sabbatical was that everyday was a Saturday and Sunday for our family—daddy wasn't going to work and was going to be home for the whole day.