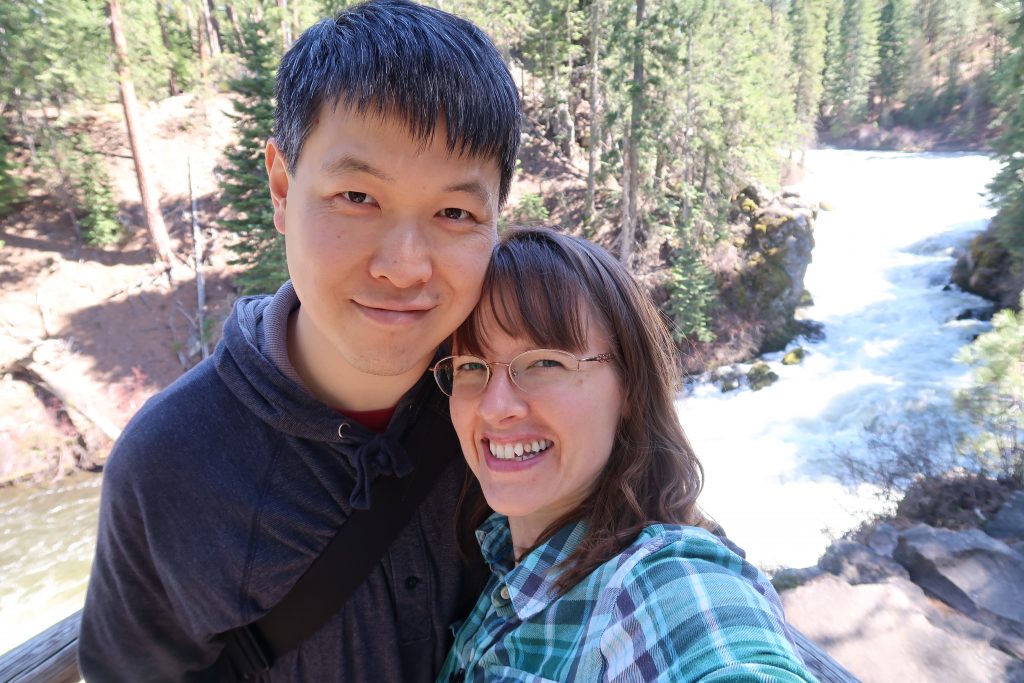 David
We dropped the kids off with Jenni's parents in Washington then drove to Sunriver through the Mt Hood route. The sun had set before we got to the mountain and made the entire drive dark. We arrived in four hours, only making two stops: once to try to stop a rattling sound in our gear and another, a bio-break at a casino.
During our drive, we reminisced about our marriage, told each other what we were grateful in each other, and explored conversations that are best uninterrupted by our children's darling requests.
I got up early the next morning to play around with a new laptop and put it through its paces. Which involved playing Heroes of the Storm. Then I spent the remainder of the morning watching YouTube videos about photography and videography. My plan was to try to record video clips of our anniversary.
Jenni slept in and took a long hot bath while I prepared breakfast. After we ate breakfast, we prepared a sandwich lunch. We spent the afternoon hiking to Benham Falls. On our first visit to Sunriver twelve years ago, we drove to Benham Falls through a backroad. Looking back, I don't know how we managed to get there and luckily didn't get trapped in the snow. It was a 3 mile hike each way. Most of the hike was paved cement until we reached Benham bridge. The river was peaceful to walk alongside as we approached the falls.
The waterfall wasn't as big as I remembered it, though there was plenty of water tumbling over. The spring weather made it greenish-brown color. We walked shortly beyond Benham Falls to break for lunch.


After hiking back, we relaxed in the condo's backyard to the sounds of the birds. It was brief before we had to start on our gourmet dinner.
We drove into Bend to Sugar Push Studios' ballroom dance. It was a quaint studio, almost hard to find alongside the big signs of the stores neighboring it. We had fun goofing off to different ballroom styles: whirling in circles for waltzes, lunging in tangos, swaying hips for latin dances, and whipping in style for west coast swing.
Jenni
We got there late Thursday night and I got to sleep in Friday! I took a long bath, David cooked breakfast for me! It was SO wonderful! It was so sunny we had to take a hike to the nearby Benham Falls. It was a nice 4 hours of viewing the Deschutes River and taking lots of photos of course. We saw a few chipmunks, a cute lizard and some birds, and I remember thinking it was nice to not have to worry too much about running into a bear like we may experience in Wyoming. We were a bit sore and tired but decided to go out ballroom dancing in Bend that evening.
David
We welcomed the second day with a pancake breakfast with a great strawberry sauce. I inspected the bicycles in the garage and found that the tires were a little flat. The Trek mountain bike had tire valves I hadn't seen before. I managed to fill up the back tire but broke the valve on the front tire in trying to detach the pump. Jenni was a patient as we drove into town to get it repaired.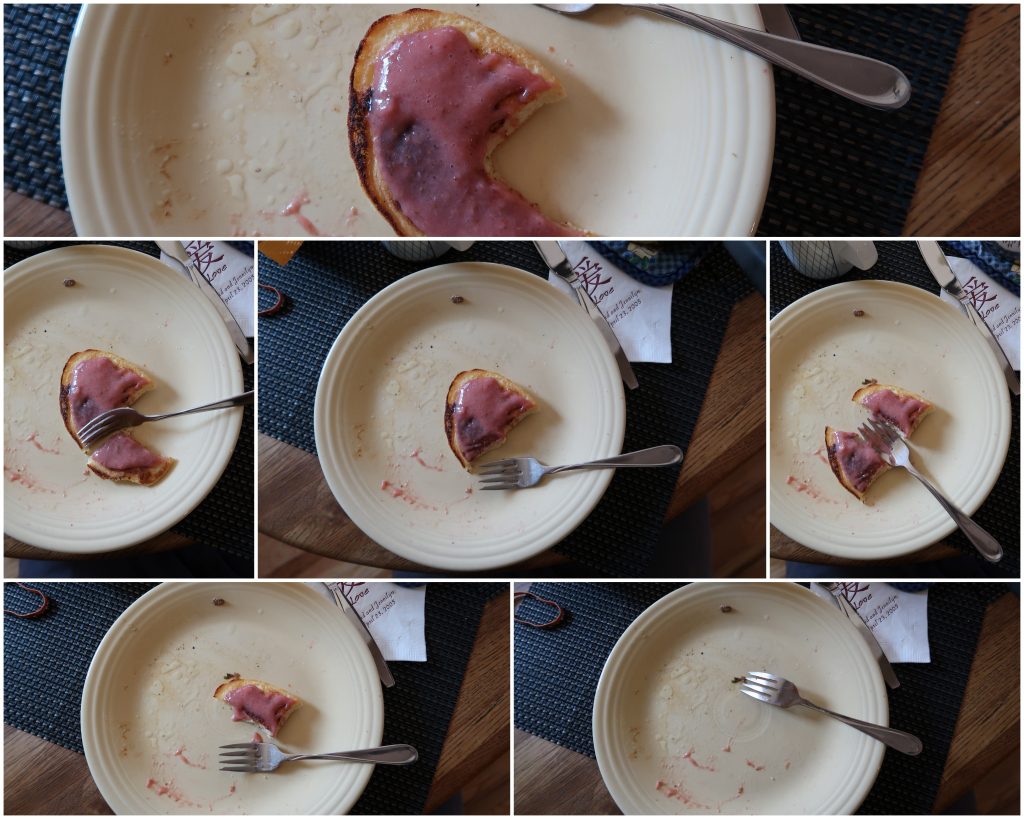 Since we were in town, we also picked up some biking gloves to keep our hands warm. The weather was beautifully sunny but the temperatures were cool. The tire was fixed in twenty minutes and we stopped by the grocery store for some supplies before heading back.
We wanted to see what was beyond Benham Falls. The hike the day before was an hour and Google Maps reported that we could cover that same distance in sixteen minutes by bike. We hadn't mountain bikes on a trail before but we were up for an adventure. And an adventure we got. We looked ahead and decided to ride to Dillan Falls. It turned out to be a nine mile ride each way. Dillan Falls was more like rapids than a waterfall, but I was thankful that we both were able to bike that distance.
Neither we or the bikes were in the best shape for the adventure, but we made it. Jenni's cruiser bike pedal got stuck as we started our trip back, so it didn't rotate with her foot. She had to stomp on it occasionally to get it to rotate. For my bike, it wasn't until we were coasting on pavement near Sunriver where I realized that the brakes had been clamping on my tires the entire time. My legs still ache thinking about that.
We rested briefly after the bike ride. Jenni treated with microcurrent while watching The Artist movie. I got to work on barbecuing a steak she brought. With a meat thermometer monitoring the steak while I cooked it in indirect heat, it was succulent and delicious. I added fried potato coins and baby bok choy as sides.
Not long after we finished our romantic dinner watching the Deschutes River from inside the condo, we dressed up to go dancing again in Bend. We danced west coast swing until after 11pm.
Jenni
Saturday we tried to take the bikes from the garage out for a trail ride but the tires were flat. David pumped them up but ended up pulling the spigot out of one of them when it got stuck in the pump. Woops! A short trip to the bike repair shop and we were set to go. We took the same trail to Benham falls and went past it to Dillon Falls. It took us 2 hours of hard riding up and down steep curvy trails, over rocks and roots, dodging people and their dogs, and a few steep edges that made us grateful for the clunky helmets that hurt our heads. There were a couple of times when we stopped and were tempted to just turn around and go back. But people coming from the north said it was only a mile and a half. We worked hard that last mile and a half and found out the Dillon Falls would be better named Dillon "rapids". I kept apologizing to David that I had no idea how much of an adventure this trip turned out to be. But he was a good sport and we ate our lunch and enjoyed the rapids. Some guy even came up to us and said, "Excuse me, is this really Dillon Falls?" You mean the place we wanted to see so we rode 9 hard miles to get to? Yes. This is it. Hee hee! We just laughed and said "Yup!" I guess if you compare the rest of the serene Deschutes River, this is a little more exciting.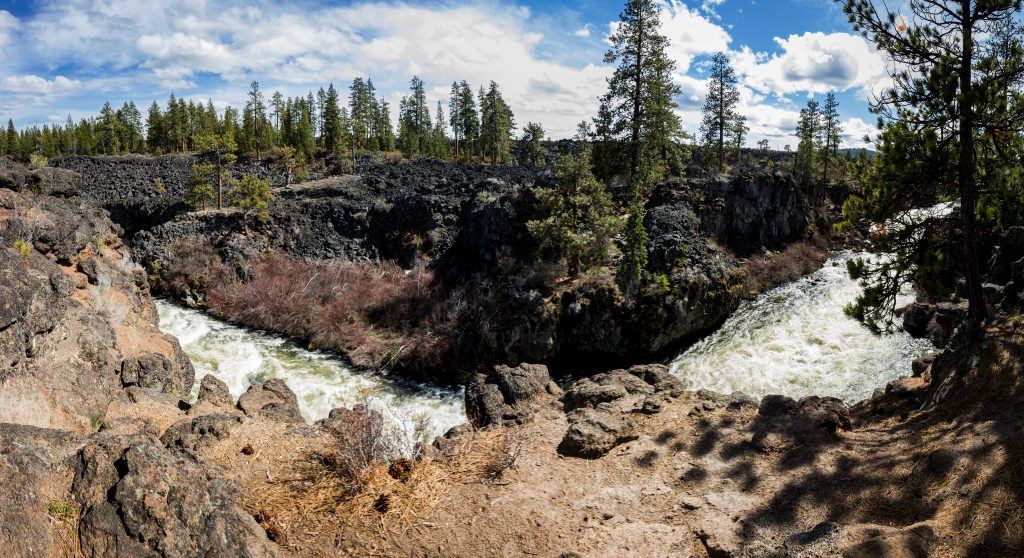 Anyways. We took several more breaks and walked up several more hills on our way back. It's funny that each time I saw Benham Falls, it was a different experience for me. The first time was like, oh, that's it? Okay, I think I remember this from 12 years ago. The second time (on bike) was like, yeah, yeah, I saw this place yesterday…moving on.  But the third time was coming back from Dillon Falls, and I was like, boy am I glad to see this beautiful sight! It means we are almost home! I don't remember it looking so pretty before!
At one point we traded helmets because David's had a bit more cushion inside that was pressing his temples in painfully. Ah, much better! David's knee cap areas were killing him at one point till we figured out his seat had gone all the way down to the frame. And he was baffled that when we were coasting downhill, I was leaving him in the dust. He figured out one of the break pads was constantly pressing against his back tire! Poor guy was having to work extra hard! We finally made it back to the condo in so much pain and exhaustion. Then we read the biking guidelines in the condo that said if you want to go mountain bike riding, better to bring your own as theirs weren't in the best shape. Again, laughing at ourselves, plus groaning.
Yet, after dinner, we went out West Coast dancing that night! We had a lot of fun till our legs were too wobbly. The leads were such gentlemen! Several of them came by all the ladies and thanked them for the dances before they left. Such pleasant manners! It was a lovely time.
Sunday we enjoyed out last meals with the view of the river. David and I gave each other cards. But before he opened mine I gasped and told him I had bought it a week ago, and may have forgotten to write anything in it. Yup. Woops. He said, "that's okay, I accidentally wrote that it's our 13th anniversary in yours."
I said, "That's okay, I was thinking it was our 13th until you told me it's our 12th. That's funny you then went and wrote 13th!" Hee hee!
David
Jenni and I felt it was one of the best anniversaries we've celebrated. We got peaceful time in Sunriver together, talking uninterrupted about dreams and reminiscing about the past, cooking delicious meals together, dancing two nights together, and enjoyed the scenic views outdoors.