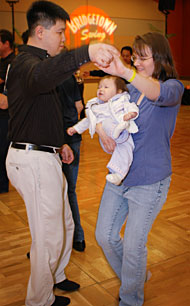 I have to give props to all the volunteers who pulled the event together in a few short months. Even with a solid foundation and several experienced staff members, Bridge Town Swing (BTS) had some big internal changes this year, but I believe the new direction will be good for the event and the Portland Swing Dance Club.
Jenni and I had planned to go to BTS for Saturday afternoon, after Gerry and Amy's wedding in Oregon City. We couldn't justify the cost of attending the event in full, but since we were in the area for the wedding, visiting our dance friends afterward was a no-brainer.
On the Sunday before BTS, Greg Krolicki, the new event director, called Jennilyn and offered complimentary guest passes for my work on the Portland Swing Dance Club web site—in particular, the BTS section. It was a very generous of him.