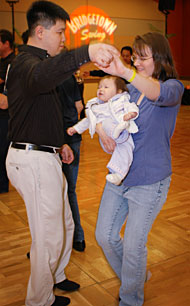 I have to give props to all the volunteers who pulled the event together in a few short months. Even with a solid foundation and several experienced staff members, Bridge Town Swing (BTS) had some big internal changes this year, but I believe the new direction will be good for the event and the Portland Swing Dance Club.
Jenni and I had planned to go to BTS for Saturday afternoon, after Gerry and Amy's wedding in Oregon City. We couldn't justify the cost of attending the event in full, but since we were in the area for the wedding, visiting our dance friends afterward was a no-brainer.
On the Sunday before BTS, Greg Krolicki, the new event director, called Jennilyn and offered complimentary guest passes for my work on the Portland Swing Dance Club web site—in particular, the BTS section. It was a very generous of him.
Strictly Between Us
So the days following were a cramble of preparations. Jennilyn did a superb job of getting food set up so we would have snacks available in our room as well as planning out how to take care of Kadence. We were excited to be able to be at the event, introduce Kadence to our dance friends, and possibly compete together.
The idea of competing was enticing and uncertain. Neither of us felt up to par and were definitely rusty. I'm not sure why we don't dance much in our own home—perhaps it will be something we'll have to change. We both thought that we would do a disservice to our partners in competitions since we were out of practice…but we reconsidered after realizing that we just wanted to get out and have fun.
My dad was kind enough to stay with Kadence in our hotel room in the Hampton Inn while we competed in the preliminary round of lower strictly swing. We had some fun warm-up dances and had good dances during the competition.
We always have hopes of making it to finals when we compete in strictly. We were a bit disappointed that we didn't make the cut for finals, but we weren't too surprised either.
Just Like Late-Night Dancing—Without the Dancing
The nights in the hotel room were a little rough. We didn't stay up for late-night dancing for either nights. Friday night, we were so tired from Kadie not sleeping well Thursday that we went back to our room after the strictly preliminaries. We had a wedding to go to Saturday morning, and I didn't want to keep my dad out late. Saturday night I was tempted to stay up, but if I did, when I returned to our room, I would likely wake up Jenni and/or Kadie. So I skipped out and went to bed.
However, Kadie got up in the middle of the night several times and it would take a while to put her back to sleep. So even though we didn't stay up for late night dancing, we felt as if we did.
Jack Went Up the Hill without Jill
I was glad Jenni felt well enough to compete in Jack & Jills. We're both in the intermediate level, so there is a chance we draw each other randomly and compete together. However, no such match-up this time. I had a solid first dance with a gal named Lori. My second dance was to "California Dreaming" with a lady named Sharon. My third partner was a gal from Seattle, Jillian Boyett, whom I've danced with two or three times, to a contemporary song. We had fun and got some audience support.
While it was disappointing that we didn't make it to finals in lower-level strictly, my heart was troubled when I didn't hear Jennilyn's name called for the finals in intermediate Jack & Jills—and I heard my name announced by the emcee.
Given the competition and my lack of dancing, I was surprised to make finals. I wasn't nervous as I didn't have high expectations. The possibility of placing, maybe, third place entered my mind, since I'm a fairly consistent and solid dancer. Before the intermediate Jack & Jills started, I stood by a chair and prayed. I was sad Jenni didn't make it and wanted to give my worries to God. It was going to be His dance.
After all the leader finalist were called up, they started calling out the followers quickly. I was happy to walk up to Jordi Balan, offer my arm, and led her to finalist lineup.
The last time I competed was Easter Swing 2007, and I also drew Jordi for my final partner in the intermediate Jack & Jill. We had three calm dances as she wasn't feeling well and managed to grab fourth place. As we lined back up at BTS, I asked Jordi how she felt. I doubt she knew that I was making a reference to our previous Jack & Jill dance, but she did remember we competed together before.
Someone in the audience drew a card and it determined the random partner we would each receive. The card was the joker, so Jordi and I got another chance to compete together. We had three fun dances and we were happy to have drawn each other.
The Champions Strut their Stuff
The champions put on a fun show for their upper strictly finals and invitational Jack & Jills. Most notable moments that got the crowd cheering were Arjay and Deborah did an arabesque together, Pete Green and Patty Vo's lyrical interpretations, and Ben Morris and Erica Berg repeating their dance step-for-step after they were delayed when Erica's shoe malfunctioned.
One for the Road
After the champions performed, Jenni and I were ready to go. We had put Kadence through a very long weekend and we were both very sleep-deprived. As we left the Hampton Inn's parking lot, I got a call on my cellphone.
Great, I thought, perhaps I got third place like I predicted. Ted Macy on the other end said that I won first place in intermediate Jack & Jill! I smiled and shook my head side to side as Jenni asked me what place I won. I tried not to smile too much as we turned the car around.
See photos from Bridge Town Swing 2008 »
Special Thanks to Tim Lorey for taking a picture of Jenni, Kadie, and me dancing.