Shopping List on My Phone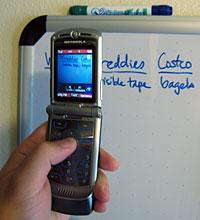 We bought a big whiteboard from Costco for about $20. It was a great deal because it came with pens, an eraser, and it's magnetic to boot.
We have three columns for stores we often frequent for shopping: WinCo, Freddies, and Costco. Whenever we think of something we need to buy, we just add on to the whiteboard. Ideally, I would use Outlook notes to do this, but Jenni and I find it easier to just write it on the whiteboard.
When it comes time to grocery shopping, I use the digital camera on my phone to take a snapshot of the list and reference it when we are shopping for groceries or household items.
My PDA Navigator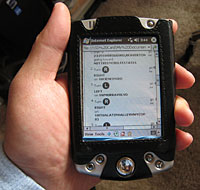 One of the best uses of the internet is getting directions. I'm glad that this technology came of age soon after I started driving. It's very convenient and I can't imagine finding places without it. MapQuest use to be the big one early on, and I use to print out directions through them. I would then fold them and tuck them away in the car after I reach my destination. I would have a collection of papers of directions to places, but unfortunately, I wouldn't always label where they were to.
After I bought a PocketPC PDA, I used a better alternative, Yahoo Maps, to get directions. Then I would save the "Print-Friendly" version of the directions as a web page file on my PDA. The reason I use the "Print-Friendly" version is to remove all the ads and extra junk that's on the web page.
Now I don't have to print any directions, have the filename describe who I'm going to, and keep them saved on my PDA's memory for future use.