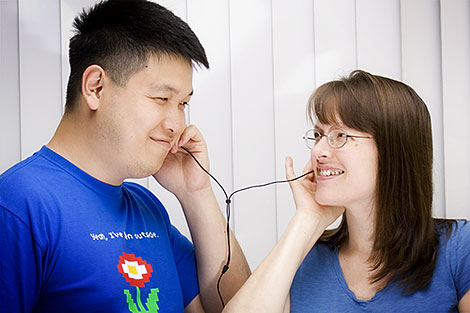 Dancing before, during, and continuing in our courtship, we have a number of songs that we consider "our songs." The song was either a great dance together or something that spoke to us.
Whatever Happens – Michael Jackson
Jennilyn and I look back to Portland Dance Festival 2003 fondly because it was the first time we had amazing dances together. This was the last song for the night, and we had magical dip at the end.
Give Me the Night (Chill Night Remix) – Randy Crawford
I had one of the best dances I had ever had with Jennilyn to this song. Even Mike McClure commented afterwards, "Looks like the beginning of a routine."
Beautiful – Faith Hill
Although this song is technically a night club two step, we danced a slow west coast swing to it at BridgeTown Swing 2003. I led Jenni into an awesome split and our dance attracted an audience. Jenni felt truly beautiful in my arms (her words).
Lost In You – Chris Gaines (Garth Brooks)
We played around with choreography to this song. At a local strictly swing competition, East vs. West, we took second place and this was the second song in our final round.
I Like The Way You Move – OutKast
Once we were dancing, I said out loud the title of the song "I like the way you move." Jenni took it as a compliment and replied "Thank you!"
Wish I Didn't Miss You – Angie Stone
I was extremely jealous when an advanced lead hogged Jennilyn during Monster Mash 2003. I finally got her for a dance to this song and we had an amazing dance. At the end, Jenni said, "Awesome." And I was like, "Oh yeah."
She Will Be Loved – Maroon 5
This song is special to us because when Jenni was sick and bed-ridden, I surprised her one night with a visit with this song playing in my pocket (from my old PocketPC).
He Heals Me – India Arie
I was browsing for dance music from India and came across this one. After the song played, I looked over to Jenni and she was crying.