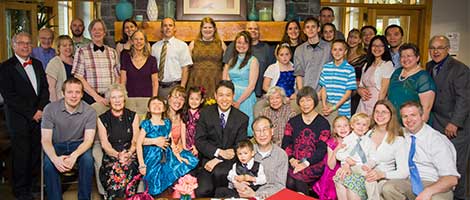 I remembered that the most important part of our wedding to Jenni was not her dress, not the venue, not the cake, and not the ring—it was the people. When she told me that, I found myself astonished by her heart.
I'm thankful that a decade later, our celebration included people at its center. Our anniversary would not be complete without spending time with those who have supported us for the past ten years. What a great gift to have nearly everyone in our original wedding party and our closest friends and family join us in a reunion.
Party at the Clubhouse
Our neighborhood included a clubhouse that we rented for the party. Though we cram our families into our house for birthday parties, this party included an attendance too large for our abode. It was a great location that wasn't too far from our home—just a wagon-trip away for decorations and supplies.
People were able to spread out and have catch-up conversations, watch the slideshow of photos, or play foosball in a separate room. The kids ran around between the rooms, sneaked in extra helpings of snacks, and danced to the background music.
Even though the room was large, it still felt intimate.

Personalized Party Preparations
Jenni and the kids spent the weeks before our party getting little touches put together, like personalized name tags for punch cups. The girls also did a tremendous job decorating the clubhouse on the day of. They were beautiful with curls in their hair and colorful dresses. They inherited their mother's party spirit.
We wouldn't have enough time to thank everyone individually during the party without taking an enormous amount of time, and we didn't want to be the only people talking. Jenni and I enjoyed reminiscing our favorite memories of each guest as we wrote them a card, thanking them for their love in our lives.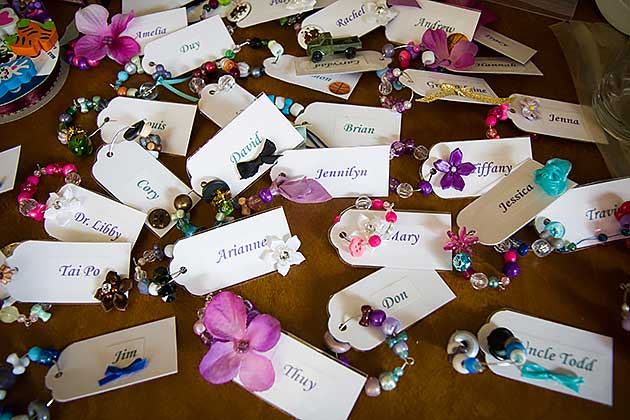 Feast with Friends and Family
In our efforts to do less work and spend more time with people, we chose to have the meal catered from Nicholas' Mediterranean food. It helped tremendously, but Jenni and our mothers still spent time making side dishes, desserts, and appetizers. Needless to say, we had a wealth of foods for everyone—and leftovers for the week after.
We had a minor snafu where the pitas were not delivered, but there was a large serving of hummus on our menu. Jenni's brother Cory and her dad made an emergency trip to Costco for the rescue. Dinner was slightly later than planned, but what big party stays on schedule anyway.
Once the food was ready, I only heard happy compliments and everyone enjoyed the feast. Jenni and I managed to snack on bits here and there before we had to prepare for the next event for the evening. Just like at our wedding.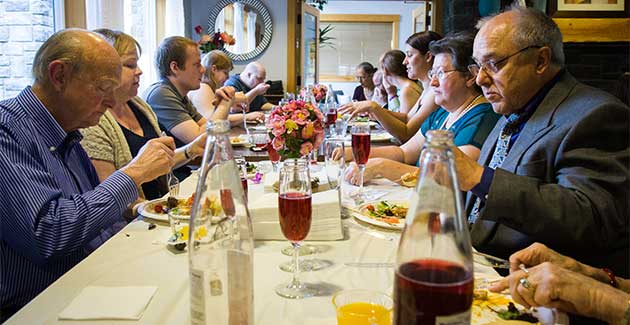 Video Highlight Reel
Jenni took the opportunity to use her video skills and summarized our ten years together in a video montage. I'm amazed that she was able to trim it down to under a half an hour (though she promised an epic Lord of the Rings trilogy extended cut in the future). We didn't count the hours she put into this project, but it was her biggest video project yet.
Us and Our Army
When the party was over, many of our friends and family stayed behind to help us with the cleanup, and allowed us to say goodbye to guests who were leaving. We have very smart family and friends who made the task seem it was orchestrated. The clubhouse was restored to its original form and all our supplies were loaded into our house.
We put the kids to bed and we smiled a sigh of satisfaction. What a wonderful night.