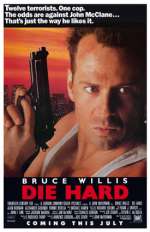 We recently watched Live Free or Die Hard (Die Hard 4), and while it was a decent action movie, it just wasn't a "Die Hard" movie. The stunts and special effects were impressive, but John McClane was only a shadow of who he was in the first two Die Hard movies.
So as part of our 80's movie month, we returned to John McClane's first adventure at Nakatomi Plaza.
I have fun memories of watching Die Hard the first time with my family when I was probably a teenager. One of my mom's friends had mailed us a tape of movies she recorded off cable television, and one of them was Die Hard. None of us had ever heard of it, but we popped it in one afternoon.
My family rarely watched movies all together, and it was rare when everyone got into a movie. If the movie was too heavy on dialogue, my parents sometimes got lost due to their language barriers.
Die Hard struck a good balance with relatively simple language that moved the plot along nicely that my parents followed along.
There was one point in the movie where John McClane took a radio to the rooftop in attempt to alert the authorities. He used a secure channel and got through to an unhelpful operator on the other end. When she explained that the channel is reserved for emergencies only, John McClane's response got my whole family laughing so hard that we had to pause the movie, then rewind after we gathered ourselves.
Jenni wanted to revisit the movie also to see what Alan Rickman was like. Jack and I made references to Die Hard 1 in jokes, so she also wanted to see what we were poking at. Alan Rickman, who played Hans Gruber, the head honcho, was an awesome villain. Quiet, intelligent, ruthless, and charismatic.
I enjoyed Bruce Willis' John McClane because he was a street-smart cop with a good instinct. He made the most of his resources and adapted to his mistakes. Die Hard plotted the hero and villain well, neither with a huge advantage over the other.
Overall, the movie had a believable plot and better attention to detail than most action movies. There were great lines throughout that added comedic relief and plenty of action that never slowed down.
A few fun quotes from the movie:
"Come out to the coast, we'll get together, have a few laughs…"
"No ******* ****, lady. Do I sound like I'm ordering a pizza?"
"HAAAAAAAAAAAAAAAAAAAAAAANNNNNNNNNNNNNNNNNSS!"