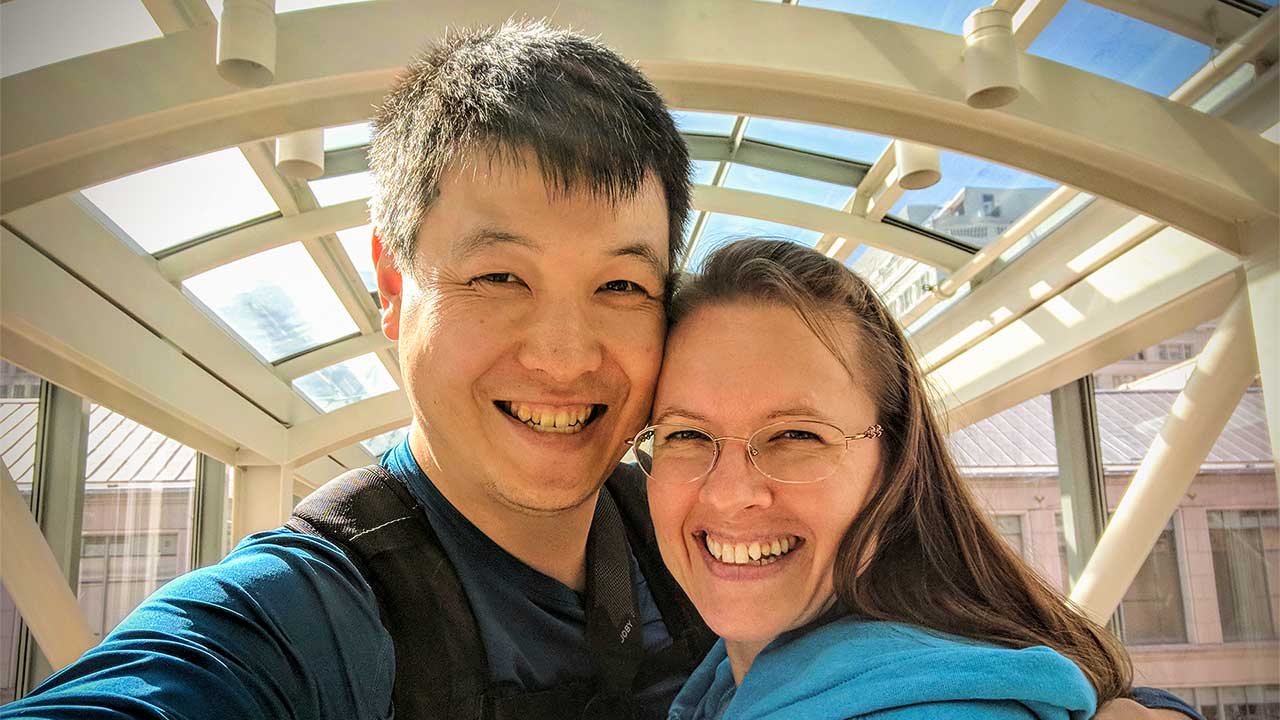 We stayed closer to home to celebrate our anniversary and played tourist in our hometown. It was slightly embarrassing to admit to visitors that we hadn't experienced some of Portland's main attractions. I researched a few locations from travel websites and off we went without kids.
Friday
Forest Park
This is one of our friend's favorite spots to hike. It's one of the largest urban forest reserves with 70 miles of trails. We hiked the short Lower Macleay Park trail to the Stone House. We took our time admiring this forest inside the city, taking photos and videos, and relishing in the slow pace of our exploration.
See the video for Forest Park »
West Coast Swing at Uptown Dance Studio
We enjoyed our first visit to Leilani's Uptown Dance Studio west coast swing praticas, so it was a no brainer to spend the evening of our anniversary weekend dancing.
Saturday
Pittock Mansion
We used a free cultural pass from the Beaverton Library for the Pittock Mansion to explore its story. My first visit to the Pittock Mansion was a few years prior, but it was without Jenni and I never went inside. After we explored the grounds and admired the view of Portland, we entered the mansion to learn about the Pittock family and all the "advanced and modern" conveniences that the mansion included.
See the video for Pittock Mansion »
Tillikum Crossing
For our 11th anniversary, we explored the St. John's Bridge to work toward a goal of visiting each of the bridges in Portland. We crossed the Hawthorne for my birthday, and the Steele while training for a 5K run. I've crossed the Tillikum Crossing a few times, but this was the first for Jenni.
Ballroom Dancing at Uptown Dance Studio
When we celebrated our anniversary in Sunriver last year, we did ballroom dancing the night before we danced west coast swing. We had so much fun with the ballroom night that we decided to give it a try this year. I learned most of the ballroom dances in college, but I've forgotten most of the patterns. We always share a good laugh with an over-the-top tango.
Sunday
Shane Co.
Our hotel was near the store where I bought Jenni her engagement ring. Part of Shane Co's product support is that we can have her ring (and our wedding rings too) cleaned regularly. It was amazing how shiny our rings were afterwards. They recommended we come back every six months, but we'll be happy to make it a tradition to visit on our anniversary.
Downtown Portland
Mill's End Park (smallest park in the world)
Continuing our tour of Portland, we walked along the waterfront to see the smallest park in the world. It's strange that the park was in the middle of a busy road. We walked past it to the other side of the street because there was no plaque or name plate. We came back around to chuckle at it and get our obligatory photo.
Petunia's Pies and Pastries
We snacked on sweets from Petunia's to hold off our lunch. Jenni spent a while admiring their offerings before we could come to a decision of what to eat.
Lindy Exchange at Director's Park
On our way to our final destination in Pioneer Square Mall, we overheard live big band music. When we got to the source, we found ourselves at the Portland Lindy Exchange. The band was jamming away with a large crowd of lindy hoppers dancing on a portable dance floor. We did a little dance ourselves before heading off.
Karaoke at Punch Bowl Social
I've been to Punch Bowl Social a few times with Jack. We came here for karaoke with our cousins during our grandma's 90th birthday weekend. Jenni had always been at home with the kids each time. I was also surprised that Jenni had never been karaoking before since she has a lovely voice.
We rented a karaoke room for 30 minutes and just belted out 90s pop and Disney songs. We had a lot of fun and definitely have to do it again. Next time, we have to come prepared with a list of songs.
See the video for Downtown Portland »
Thirteen Years Together
We love being around each other. I know it's strange sometimes, but we enjoy being in the proximity of each other. We don't have to be doing something together. Some of my favorite moments of the weekend together were just hanging out in our hotel room, waiting for the next event. We don't generally get the luxury of waiting without any interruptions.
We slept in and enjoyed taking our time going about our day together. Thanks to our neighbors and to my parents who watched our kids so that we could have a quiet weekend to be refreshed and reminisce about all the years we've enjoyed together.