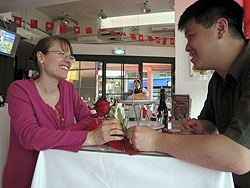 Our second year of marriage has strengthened our relationship with each other and with God. By now, we know each other's faults and tendencies fairly well, but we both put effort to always think the best of each other. We've been committed to forgive and love as the Lord does for us. Sometimes it's hard, but our closeness has been worth the effort.

We spent our first anniversary at Reno Dance Sensation, and it wasn't long before Clark and Mary's wedding came along after that. We were overjoyed to be part of their celebration. A week after they were married, we moved apartments. We are very thankful for our current location. It has allowed me to walk to work each day and occasionally, Jennilyn visited me for lunch. Our neighbors are quieter, there are less smokers, and the rent is less.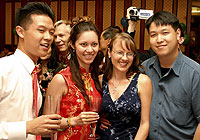 In August, we welcomed Jack back to Portland and travelled together to Kevin's wedding in Los Angeles. Like our wedding, it was a fabulous reunion, but this time, we had the opportunity to visit and catch up with family.
The company I work for, Vernier, celebrated its 25th anniversary at Sunriver for Labor Day weekend. We enjoyed the relaxing time away at the end of the summer, and happily rode bikes around the beautiful scenery.
We both volunteered to work at BridgeTown Swing 2006. I worked as the Ballroom Coordinator while Jennilyn worked as Volunteer Coordinator. It was a lot of work but after watching our friends enjoying the weekend, the work was worth it. We competed together and did well. We placed third in strictly swing together and I took fourth in intermediate Jack & Jills.
Around Halloween, our blog got a huge spike in visitors. Our pirate pumpkin from last year got linked to by MAKE:blog! We also got to create a new generation of pumpkins with my family.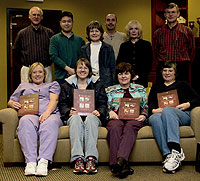 We took a ten week course on finances from a biblical perspective by Crown Ministries. We had homework and scripture to memorize each week. It opened our eyes on how God wanted us to manage His provisions. We learned how to be faithful stewards, get out of debt, create a budget, and plan for the unexpected. We highly recommend the study course for everyone. Money has a powerful ability to enslave, so we hope that everyone can benefit from God's perspective and wisdom on how to serve God instead of money.
We built a new computer workstation at the start of 2007. We are using it as our new web server and gaming machine. I built a new computer every three years while I was in college. This time it was five years until we upgraded. We were doing some heavy-duty video and photo projects on my laptop, since it was more powerful than our desktop. Thankfully, that has changed. Our new powerhouse workstation screams through our computer-intensive tasks and makes our games look great =)
After a three year hiatus for Jennilyn and two year M.I.A. for myself, we returned to Easter Swing 2007 for a weekend full of dancing and hanging out with friends. I was unsure if we should go because of Jennilyn's sickness with pregnancy, but God called me to "Trust Him," and he gave us a great weekend. We competed in amateur strictly swing and placed seventh out of forty-five couples. Most of the couples that placed higher us were advanced-level dancers. I happily placed fourth in intermediate Jack & Jills with a Portland friend, Jordi.
For our second anniversary, God amazed us with an opportunity to visit China with my parents. It had been a dream of ours to go with my family. We stayed in China for two full weeks. We visited amazing locales, were treated like royalty, received generous hospitality from relatives, and enjoyed meeting new friends and family.
I've put together a brief photo slideshow of our second anniversary. You can view it on YouTube below (which sucks that they don't allow you to choose the starting frame, that's why you see the Crown Financial class portrait below =P) or download a higher-resolution version in Windows Media Video format.
Play High-Resolution Second Anniversary Slideshow. (Windows Media Video. 7.45 MB. 4:25)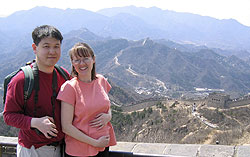 We have big changes ahead for our third year. Jennilyn and I are expecting our first child; making us a family of three. We hope to move into a house before the child is born as our apartment is small. We are prayerfully seeking options but continue to trust God to guide and provide.
Jenni and I are both celebrating 10 year high school reunions. I'm currently part of the planning committee for the Benson class of 1997's 10 year reunion. I look forward to seeing what my classmates have been up to and wrote up my own 10 year summary. I hope that Jenni can go to her reunion, but her reunion party is very close to the baby's due date in September.
I'm thankful about God's promise that the future unknowns are nothing to fear. God has been faithful, patient, and gracious. I still have doubts when I face trials, but I continue to work on trusting Him more. I'm glad to have opportunities to reflect on each year of our marriage as it reminds me how great God is. And how blessed I am He weaved Jennilyn and I together as husband and wife.